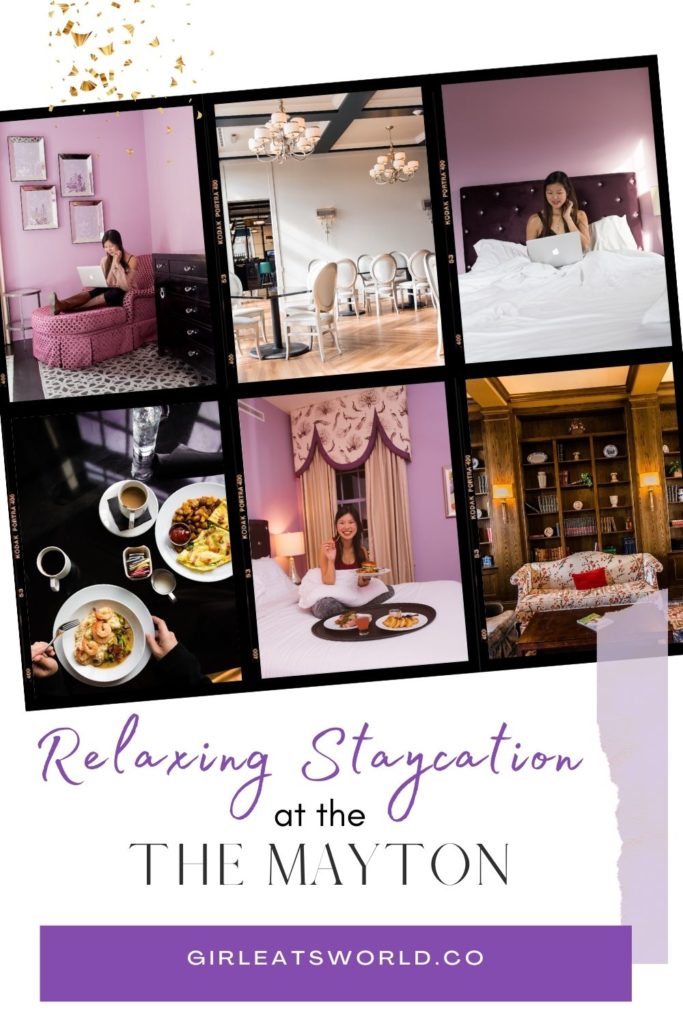 The Mayton treated me a staycation at their beautiful property and now we've teamed up to treat a lucky reader too! (More on that at the end.) I wanted to share more about my first experience here first!
Located in downtown Cary, the property is within walking distance to sweet shops and restaurants. For instance, next door is a darling brewery in repurposed house, Cotton House Craft Brewers. The rooms are spacious and beautiful. Because I knew it was just me, (darling Sugarface stayed home with the dogs so I can have much needed me-time), I picked the Deluxe Queen Suite mostly because purple is my favorite color. And boy, did I feel like I was living out a princess fantasy staying in this spacious suite.
Working from home during COVID for almost a year made me really miss having a change of scenery for work. The Mayton gave me a much needed break from the mundane while I still tackle some mundane tasks, like work emails!
And let's talk about the sleep!
The windows in the bedroom are outfitted with blackout curtains if you need total darkness to sleep. There's also a background noise switch if you need a hum to help lull you to a sweet slumber. I've stayed in a great number of lovely hotels and this was my first time experiencing a built-in noise machine! Listen, I love my living situation of a handsome partner and two sweet dogs, but having the whole bed to myself without dog hair floating around was a heavenly treat!
A cozy library space
Across the hall from the hotel restaurant, Verandah sits a gorgeous library space. You can take your meals here if you'd like or just simply sit and enjoy a quiet afternoon.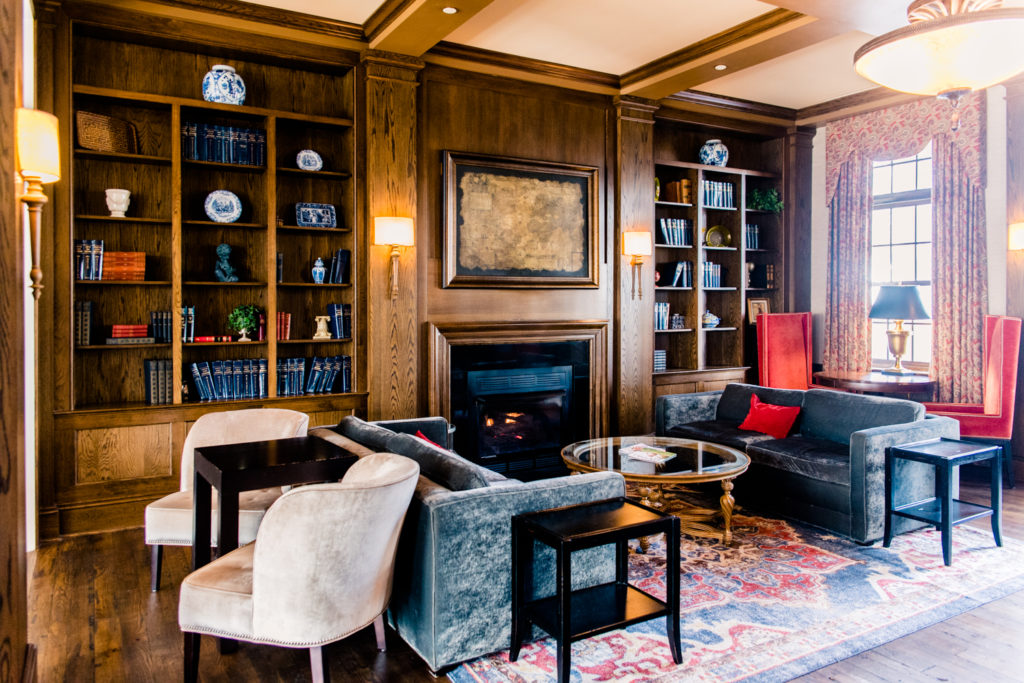 The Mayton's Restaurant: Verandah
Is there anything more luxurious than treating yourself to room service? It's especially lovely during the pandemic. I loved the pom-tini cocktail and that juicy burger, cooked to your preference.
The Verandah's breakfast and brunch service is a popular one! I heard from a few friends telling me about their favorable brunch experience. The restaurant is open to the public, so you don't need to be staying at The Mayton to experience The Verandah! I've heard great things about the blueberry pancake. I quite enjoyed my breakfast omelet!
It was a rainy day the day I stayed, but please note The Verandah also has a beautiful patio dining area. Pretty twinkle lights illuminate the space in the evening.
COVID safety
If you follow me on Instagram, you already know that I prioritize safety during these times when going out. The Mayton has hand sanitizer available throughout their property, asks that guests wear masks when in common area, and has a heated outdoor patio if you wish to dine outside.
Try your luck in winning a Staycation at The Mayton
I hosted a giveaway (that is now closed) with The Mayton and gifting one lucky winner a staycation. One way people can earn an entry to this giveaway is sharing about a time they prioritized self care. I loved some of these answers so I picked some to share with you below!
Ideas for Self Care
Spent the day making candles while listening to the Bridgerton soundtrack by Vitamin String Quartet. Candle making has become my therapeutic hobby outside of my full time job
i try to treat myself with care on sundays with my weekly face mask <3 great giveaway!
These days I'm all about small moments of self care. My new routine is setting aside half an hour at bedtime with a novel and a candle…maybe some chocolate. Usually my two cats come to cuddle.
In the midst of moving week and house project craziness on top of work last week, we decided to give ourselves the night off and I got into bed early (7:30pm 👵🏼) and journaled and watched TV to rest 😊
I picked self care yesterday when I took a nap instead of stressing over my to-do list 🧡
My self care consists of taking time to read, polish my nails, and take care of my skin.
Anytime I have practiced archery has felt like self-care for me. I haven't done it in a while. Being one with nature is a way that I get aligned with my purpose and myself. It's therapeutic.
self-care always babe! I ice and jade roll that face daily 😍
I used to be terrible about feeling guilty whenever I ate out by myself! Taking myself on coffee and lunch dates as I grew older is my favorite form of self-care!
Pre Covid, I'd take a solo trip out of town. Now, just allowing myself to do whatever it is that I want when I want, despite cost, etc. this life is short! As we've all experienced more than ever this year. 💗
I took a trip to @zenfishpokebar this last weekend with NO KIDS🎉🎉
A time I treated myself with care was I took a day off work on my bday and did nothing (but cry some) in bed! My mom took care of baby for the day and bryan brought me lunch in bed. It was much needed and healing!
Anytime I take a slow, cozy Saturday morning with a book! My fave!
And that concludes my recap of my Staycation at the Mayton
I'd love to hear about your thoughts on the Mayton and if you'd like to share, some of your self-care routines! Please leave me a comment if you'd like!
The Mayton
301 S Academy St, Cary, NC 27511
themayton.com
For more about the Triangle, check out my Ultimate Guide to the Triangle.
Follow my eating adventures and happenings on Instagram. You can also see what is catching my attention in the food world on Twitter and Facebook. I also recently launched a Patreon to share some behind the scenes of running a food and travel blog!
Possibly Related Blog Posts (automatically generated)