As I mentioned in the last blog post, Sugarface and I stayed a week in Washington DC recently. It was long enough to really get a sense of a hotel and its day-to-day operations. Our staying at the Conrad Hotel was a default decision. It was walking distance from the Convention Center where Sugarface was conferencing and it was dog-friendly. We ended up having such a pleasurable experience that I felt compelled to dedicate a blog post to our hotel! So here are just five of many reasons to stay at the Conrad Hotel the next time you're traveling to Washington DC.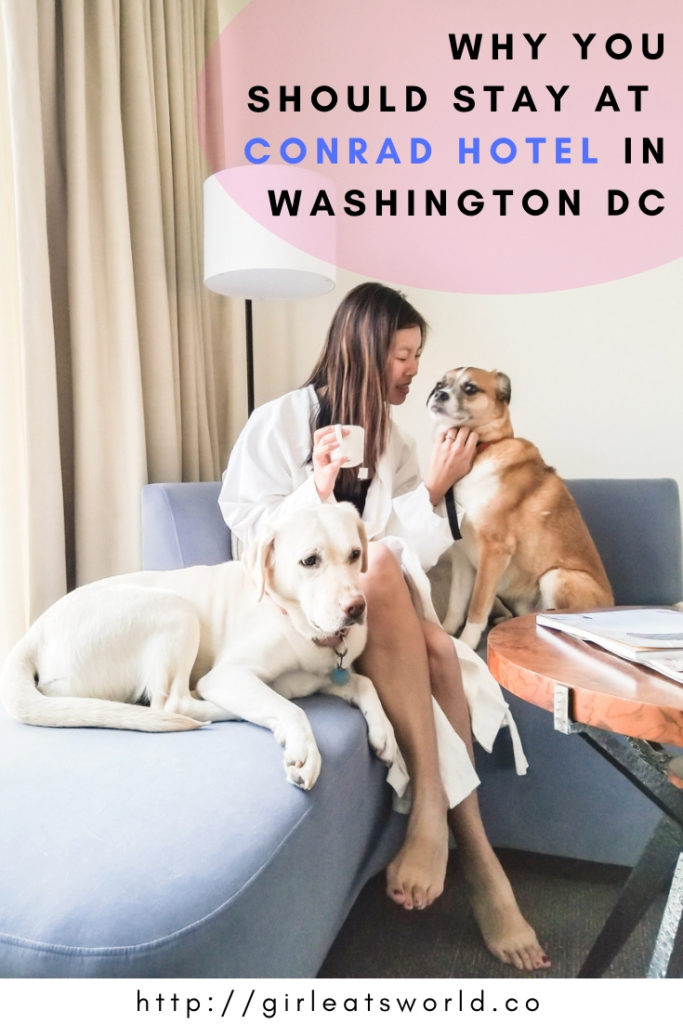 The Conrad Hotel in Washington DC is Doggo-Friendly
We specifically chose the Conrad Hotel for their dog-friendliness. We had a week-long stay and I was nervous about Bob and Neva behaving in the room when left alone. Bob is a barker when he thinks people are walking too close to our home. I trained him with the help of a barking collar a few days before our trip. I think it helped because we received no complaints and have no complaints! The dogs enjoyed all the attention they got walking in and out of the hotel.
The service at the Conrad Hotel is personalized and impeccable.
The service at the Conrad Hotel was excellent. All the doormen called me by Mrs. Sugarface, which tickled me. Even more impressive than calling us by name, was the hotel staff greeting our dogs by their names. How personable! Housekeeping comes twice a day and also worked with our work and dog schedules. In the evenings, if your "do not disturb" light isn't on, someone checks to see if you need ice or water or restocking of the minibar. Everyone representing the hotel was so friendly and welcoming. It's not often you leave a busy, urban hotel feeling like you have a rapport with the hotel staff.
Located in City Center, the Conrad Hotel in DC is so conveniently close to major sights.
While Sugarface was at his conference, I kept close to our home base in case our dogs caused trouble. I love how convenient our location was when it comes to sightseeing and restaurant hopping. You can easily walk to the National Mall and so many museums and sights. Momofuku and Milkbar are just a few steps away from the Conrad Hotel. Additionally, a good chunk of the 19 amazing restaurants I ate at was within walking distance of our home base!
Conrad Hotel has an Elevated Restaurant and Rooftop Bar
And if you're not wanting to roam the streets to nearby restaurants, you can "stay in!" Every time I left our room in the evening to walk the dogs, I saw so many people in their party outfits having a merry time. It took a few minutes to realize they were enjoying either the Estuary, a restaurant/bar with cuisine sourced from the Chesapeake and a gorgeous view, or the Rooftop Bar on the 11th floor with an even better view! We stopped by the Estuary one night for a nightcap and enjoyed a cozy view of both a fireplace and the cityscape.
The amenities are both luxurious and practical.
If you follow me on Instagram, you might already know that I'm a sucker for cozy robes in hotel rooms. Which, the Conrad definitely has. Along with his and her sinks, an umbrella in each room, complimentary water, tea, and Nespresso pods to use with your room's Nespresso machine, and a fully stocked minibar. I've never stayed at a hotel that includes an umbrella in your room. Thank goodness too because I had to use it for two days of our week-long stay. Our room had a spacious marble desk that Sugarface and I both used, sometimes at the same time, to get work done. Other amenities include a business center and expansive gym both available 24/7. One of these days, I'll be a good adult and work out at a hotel gym.
And that's just five reasons why I had such a lovely stay at the Conrad Hotel in Washington DC.
So, tell me in the comments, what are some of your favorite hotel amenities?
Estuary
https://estuarydc.com/
Conrad Hotel in Washington DC
950 New York Ave NW, Washington, DC 20001
conradhotels3.hilton.com/en/hotels/district-of-columbia/conrad-washington-dc-WASCICI/
Follow my eating adventures and happenings on Instagram. You can also see what is catching my attention in the food world on Twitter and Facebook. For insights on behind-the-scenes of being a blogger, support me on Patreon!
Possibly Related Blog Posts (automatically generated)