Myrtle Beach is everything you want in a vacation destination, with white sandy beaches, gorgeous water, and incredible seafood. It's chock full of fun attractions like the Family Kingdom Amusement Park, Myrtle Beach State Park, and it's nearby Huntington Beach State Park.
I recently visited this stunning location for the first time during the off-season (no battling crowds, amazing!) and had the best time. Plus, I got to binge a few of my favorite podcasts on the way there for a win-win situation. Here are the top eight things to do in Myrtle Beach, South Carolina, to fully enjoy the area.
Twelve 33 Distillery
This distillery is situated in Little River, slightly north of Myrtle Beach. This distillery is run by a husband-and-wife team who wanted to create craft beer that was anything but ordinary. You can tour the distillery to learn about how these fun craft beers are created and end with a tasty flight like we did.
As you're drinking each flight, the "spirit guides" will tell you flavor notes to look out for and how each is made. Afterward, I looked around the speakeasy, which was the cherry on top. Both flight tastings and VIP tours are available at Twelve 33 Distillery, with the VIP tours including entry to the hidden speakeasy.
Don't forget to grab the password before heading to the speakeasy. Here's a hint: Twelve 33 Distillery posts it on their Twitter every few days or so.
Twelve 33 Distillery
593 Hwy 90 E, Little River, SC 29566
twelve33distillery.com 

Gay Dolphin Gift Cove
Next on the list was shopping at Gay Dolphin Gifts. This iconic shop is a must-see when visiting Myrtle Beach. It's massive (about 26,000 square feet)!
Can you believe this famous gift shop was once a much smaller shop combined with an amusement park in the back?! 72 years later, this shop is still a top spot for visitors to explore. You'll find fun and funky items here like Bob Ross socks and mermaid coasters.
Gay Dolphin Gift Cove
916 N. Ocean Blvd., Myrtle Beach, SC 29577
gaydolphin.com
Creating Airbrushed T-Shirts
What else do you do in Myrtle Beach but get custom airbrushed t-shirts? This little shop was right next to the Gay Dolphin Gift Cove and gave us a fun way to remember the trip.
You get to choose the design you want, and they airbrush it on a t-shirt right in front of you. I highly recommend getting one during a trip here!
Riding the SkyWheel
The SkyWheel is a stunning giant Ferris wheel that is found on the Myrtle Beach Boardwalk and is one of the best Myrtle Beach attractions. This Ferris wheel was originally the only attraction, but additional activities like a ropes course and mini golf courses were added to the area as it became more popular.
Riding the SkyWheel is a great way to see the incredible views, especially from the top of the wheel. Each gondola is enclosed, so no matter when you visit, you'll be able to enjoy a temperature-controlled ride with views.
SkyWheel Attractions
1110 North Ocean Blvd., Myrtle Beach, SC 29577
skywheelmb.com
Sunset Watching
I can tell you with absolute certainty that we tried to see as many of Myrtle Beach's sunsets as possible. There's nothing better than watching the beautiful pink and purple colors over the Atlantic Ocean in the evenings. Whether you watch them from inside or outside, you're in for a real treat.
Ripley's Aquarium Myrtle Beach
If you've never walked through the shark tunnel at Ripley's Aquarium, it's an absolute must! It's a great way to peer into the underwater life of sharks, jellyfish, and horseshoe crabs – without actually getting into the water.
This spot in North Myrtle Beach also features fun interactive exhibits, so you can get up-close and personal with the sea critters if you wish. I saw a potbellied seahorse for the first time. So cute.
This is the perfect spot for families visiting Myrtle Beach.
Ripley's Aquarium Myrtle Beach
1110 Celebrity Circle, Myrtle Beach, SC 29577
ripleys.com/myrtlebeach/attractions/aquarium
Brookgreen Gardens
The Brookgreen Gardens are stunning! This botanical garden has so much to do that you can spend an entire day here. Be the main character by strolling through the various gardens.
There's even a butterfly garden here and a sculpture garden. Tripadvisor has even named this location one of the Top 10 Gardens in the US. Spend time in the wildlife preserve as a perfect ending to your trip to the gardens.
Brookgreen Gardens
1931 Brookgreen Drive, Murrells Inlet, SC 29576
brookgreen.org
RipTydz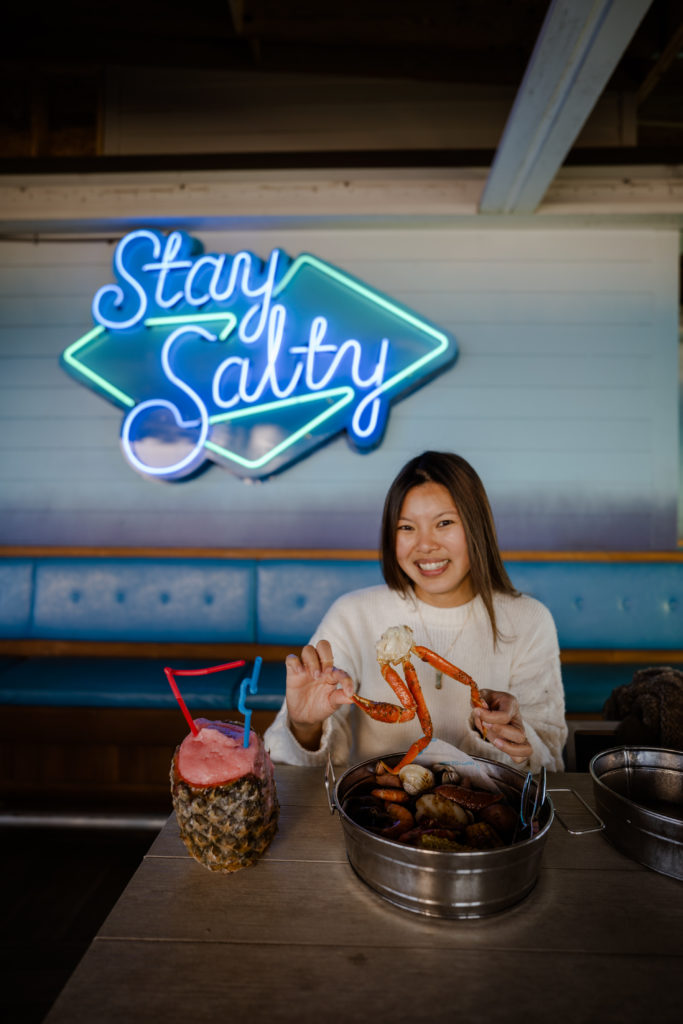 You can't head to Myrtle Beach without experiencing the fresh seafood here! RipTydz is right near the SkyWheel, making an excellent stop for lunch or dinner after you ride the attraction.
I filled up on steamed seafood here, but they have plenty of American-style food that you can fill up on. Plus, the views while you eat of the beach are unbeatable!
RipTydz Oceanfront Grille & Rooftop Bar
1210 N Ocean Blvd, Myrtle Beach SC 29577
riptydz.com
That's it for my list of eight fun things to do in Myrtle Beach! There's something here for everyone to enjoy. As a bonus, you get a gorgeous view no matter what part of the Myrtle
Beach area you're in during a Myrtle Beach vacation.
Read my blog, Easy Weekend Trips from the Triangle, for more inspiration on short road trips you can make from North Carolina. Also, don't miss out on my Ultimate Guide to the Triangle.
Follow my eating adventures and happenings on Instagram and Tiktok. You can also see what is catching my attention in the food world on Twitter and Facebook. 
Possibly Related Blog Posts (automatically generated)