North Carolina is a beautiful state filled with fantastic food and, of course, wineries. What better way to appreciate where your wine comes from than by tasting it at the source? Below you'll find a list of seven idyllic North Carolina Wineries and Vineyards that you need to visit asap!
Divine Llama Vineyard
Divine Llama Vineyard
This vineyard sounds like it's straight out of a fantasy movie. It's combined with a llama farm, and these llamas can carry chairs, water, and other treats with them to a small creek during a hike. You'll be able to take pictures and feed the llamas once you arrive here. Seriously, how can it get any better than this?
Check out the tasting area (separate from the llama farm) and food trucks for your food and wine fixes. There are options for white, red, and hybrid wines. You can even bring your dog here!
Divine Llama Vineyard
4126 Divine Llama Lane, East Bend, NC, 27018
divinellamavineyards.com
Adagio Vineyards
Adagio Vineyards
This stunning location spans 45 acres and features a cute house/tasting room run by a husband and wife team. You can also try their yummy cheese, crackers, and chocolates, along with the wines. There are picnic tables and firepits available, so you can bring your own food to munch on as you sip wine.
My absolute favorite wine here is Coda. It's a sweet wine made with Traminette (a white grape hybrid), Asian pear, apple, and spiced honey.
They'll even take you through the wine-making process here.
Adagio Vineyards
139 Benge Dr, Elkin, NC 28621
adagiovineyards.com
Old Homeplace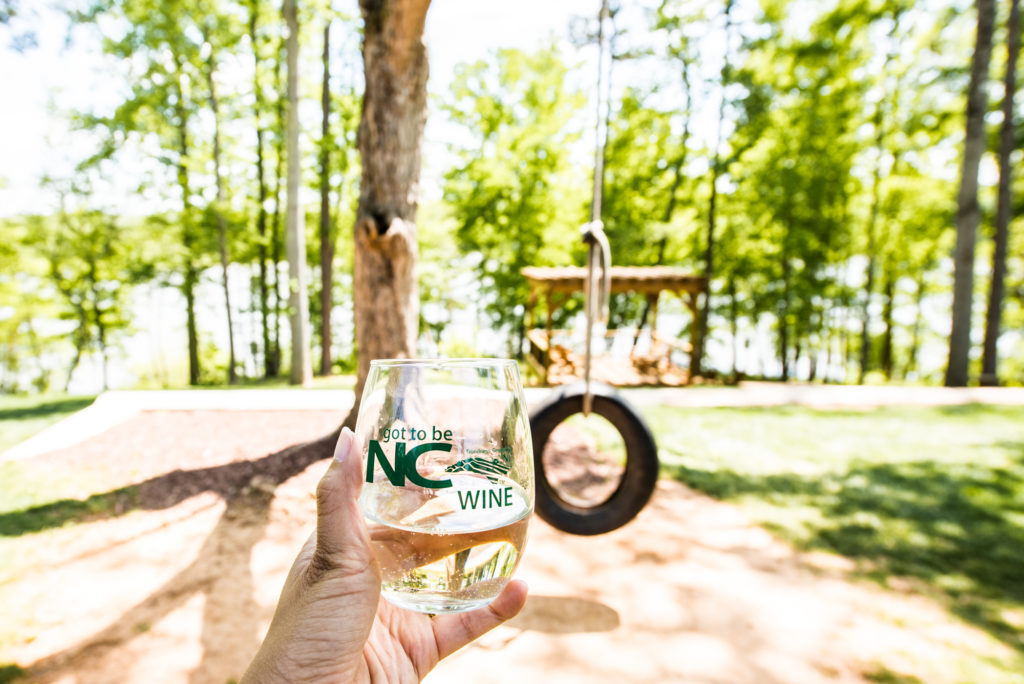 Old Homeplace Vineyard
Talk about cute! This place has one of the best outdoor seating areas, including a tire swing. It's right near a lake where they often have live music. There's even a super cute barn that you can rent out for events.
Stay with the theme of this vineyard by trying its Rosé named Tire Swing. It's a drier but delicious wine. They also have delicious cabernet sauvignon and sauvignon blanc options.
Don't forget to ring the bell on the way out!
Old Homeplace Vineyard
623 McGee Rd, Winston-Salem, NC 27107
oldhomeplacevineyard.com
JOLO
JOLO Winery & Vineyards
This is a place that has it all! There's a restaurant, tasting room, pavilion, and patio seating available here. Oh yeah, and eight wineries to check out. Enjoy gorgeous views of Pilot Mountain and Cox Lake while you explore and taste their estate-grown wines.
Their Pilot Fog which is aged in an American Oak barrel is a must-try. They also boast excellent white wine and rosé offerings.
JOLO Winery & Vineyards
219 JOLO Winery Lane, Pilot Mountain, NC 27041
jolovineyards.com
St. Paul Vineyard
St. Paul Mountain Farms
This farm is both a vineyard and orchard serving French-style wines. You can find different tasty drinks here besides wine, like hard ciders made from their farm-grown fruit. This is the ideal spot for you if you enjoy trying other spirits beyond wine.
There are also super fun test-tube flights that you can drink while visiting the farm. Hang out and enjoy the live music, stop by for yoga, or head to their Flat Rock Tasting Room for Sunday Brunch with mimosas.
Most importantly, try the cabernet franc – it's one of the best wines here.
St. Paul Mountain Farms
588 Chestnut Gap Rd, Hendersonville, NC 28792
saintpaulfarms.com
Elkin Creek Vineyard
Elkin Creek Vineyard
Head to this spot in Yadkin Valley for gorgeous views and wine. This vineyard, featured in Southern Living Magazine, is noted as the best in the area. Grab yourself a bottle of Vino Limone – a yummy dessert wine like limoncello. There's a quaint little creek you can walk to behind their tasting room!
Check back in on Sundays for fresh-made pizza with toppings of your choice. You can even spend a night or a few nights here by renting a cabin right on the vineyard.
Elkin Creek Vineyard
318 Elkin Creek Mill Road, Elkin, North Carolina 28621
elkincreekvineyard.com
Mountain Brook Vineyard
Mountain Brook Vineyard
Enjoy your wine flight with locally sourced cheese and crackers. You'll have beautiful North Carolina mountains to view while sipping on your wine.
If you stop by in summer, try the Frosé (frozen rosé slushie). It's to die for!
Mountain Brook now offers adorable doggy flights! You can enjoy your wine flights while your pup tries different dog bone flavors.
Mountain Brook Vineyard
731 Phillips Dairy Road, Tryon, NC 28782
mountainbrookvineyards.com

And that concludes my list of 7 must-visit North Carolina wineries. The list includes some of the prettiest vineyards and wineries to stop at. Each offers impressive views, tasty wine, and great places to sit and relax. I will keep adding to the list as I find even more fantastic spots. Check back for updates on the list.
Read through my blog, Where To Brunch In The Triangle, if you're interested in trying different brunch experiences besides St. Paul Mountain Farms. You'll get some tasty ideas and inspiration for your brunch outings.
Follow my eating adventures and happenings on Instagram. You can also see what is catching my attention in the food world on Twitter and Facebook. Oh, I'm now on tiktok!
Possibly Related Blog Posts (automatically generated)