Ah, donuts. Fried and glazed fluffs of happiness. The perfect accompaniment to any cup of coffee and instant mood lifter. National Donut Day is next week and I'm here to arm you with a guide to the best donuts in the Research Triangle Area. On this list, you'll find both the classic donut shops offering the unassuming but perfect donuts and the more elaborate donuts, also perfect in their own right.
List Last Updated August 2021.
Churro Donuts from Lawrence Barbecue
One of my favorite spots to grab a bite in the Triangle is Lawrence Barbecue, located at the Boxyard in RTP. Their brisket sandwiches and fried chicken are SO good. They recently introduced churro donuts with a caramel sauce and they are seriously little pillows of pleasure.
Lawrence Barbecue at Boxyard
900 Park Offices Dr, Research Triangle, NC 27709
lawrencebarbecue.com

Tepuy Doughnuts
You can find Tepuy Donuts at various coffee shops and restaurants like Idle Hour Coffee Shop in Raleigh and Iris Coffee Lab. They change their flavors often. I tried their glorious Nutella donut and the banana pudding donuts. Both converted me into a true fan of Tepuy Donuts! Definitely seek them out!
Tepuy Donuts
multiple locations
instagram.com/tepuydoughnuts
Mochi Donuts at Heirloom Brewshop
Not only is Heirloom Brewshop a beautiful coffee and tea shop with excellent drinks, but it's also the first place in the area with made-to-order mochi donuts. A popular dessert in Asia that is still slowly making its way around the US. These are fried-to-order and you can choose from unique flavors like coconut lime with candied lime zest, five spice sugar, and lavender honey with lavender buds.
Heirloom Brewshop
219 S West St, Raleigh, NC 27603
heirloombrewshop.com
Mochi Donuts at Boba Baba in Cary
Every other weekend, Boba Baba, a boba shop in Cary, sells mochi donuts! They have matcha glazed mochi donuts as well as taro glazed mochi donuts. They alternate between selling these donuts and cream puffs every other weekend. So if you stop by and don't find these mochi donuts, you'll still likely find something sweet to go with your bubble tea!
Boba Baba
12102 Bradford Green Square, Cary, NC 27513
bobababacafe.com
Fried-to-Order Crullers in Durham
These fluffy crullers are fried-to-order during brunch at Jacktar and the Colonel's Daughter. They are served with honey cream!
Jacktar and the Colonel's Daughter
202 Corcoran St, Durham NC 27701
jacktar-durham.com
Hot Minis at Sola
Heirloom is not the only fried-to-order donut place on my list! Sola, another beloved Raleigh coffee shop has the cutest baby donuts that are fried-to-order. They call these their Hot Minis. They have a rotating list of flavors you can get these donuts in. A favorite is a strawberry! I'm most curious about their habanero flavor hot minis and pictured is the espresso hot minis. They come in bags of six and you won't want to share them!

Sola
7705 Lead Mine Rd, Raleigh, NC 27615
solacoffee.com
Mo' Donuts at Monuts
Monuts in Durham has been serving the Durham community since 2011. They rotate their donut flavors fairly often. I'm currently into their orange pistachio donut! They always have a selection of 3-4 cake and 3-4 yeast donuts. If you're worried about consuming way too many donuts, Monuts also has a salad I'm really into, their crispy rice salad. How's that for some balance to counter your donut indulgences?
Monuts
1002 9th St, Durham, NC 27705
monutsdonuts.com
Early Bird Donuts Makes the Best Donuts for Early Birds
I learned that Early Bird Donuts is aptly named. I arrived there at 11 am on a Saturday and there were mostly sold out, despite closing at 2 pm. They are notorious for running out early. I bought up what they had left and made a mental note to be more of an early bird next time! They also make croissants in-house and fresh every day and routinely run out of those well before closing. I had my first sour cream donut here and am now obsessed and miss it every day I'm not eating it. They also fill their donuts to order! I had a cream cheese filling and it made my donut taste like a wonderful cream puff.
Early Bird Donuts
2816 Erwin Rd #101, Durham, NC 27705

Carolina Glazed Donuts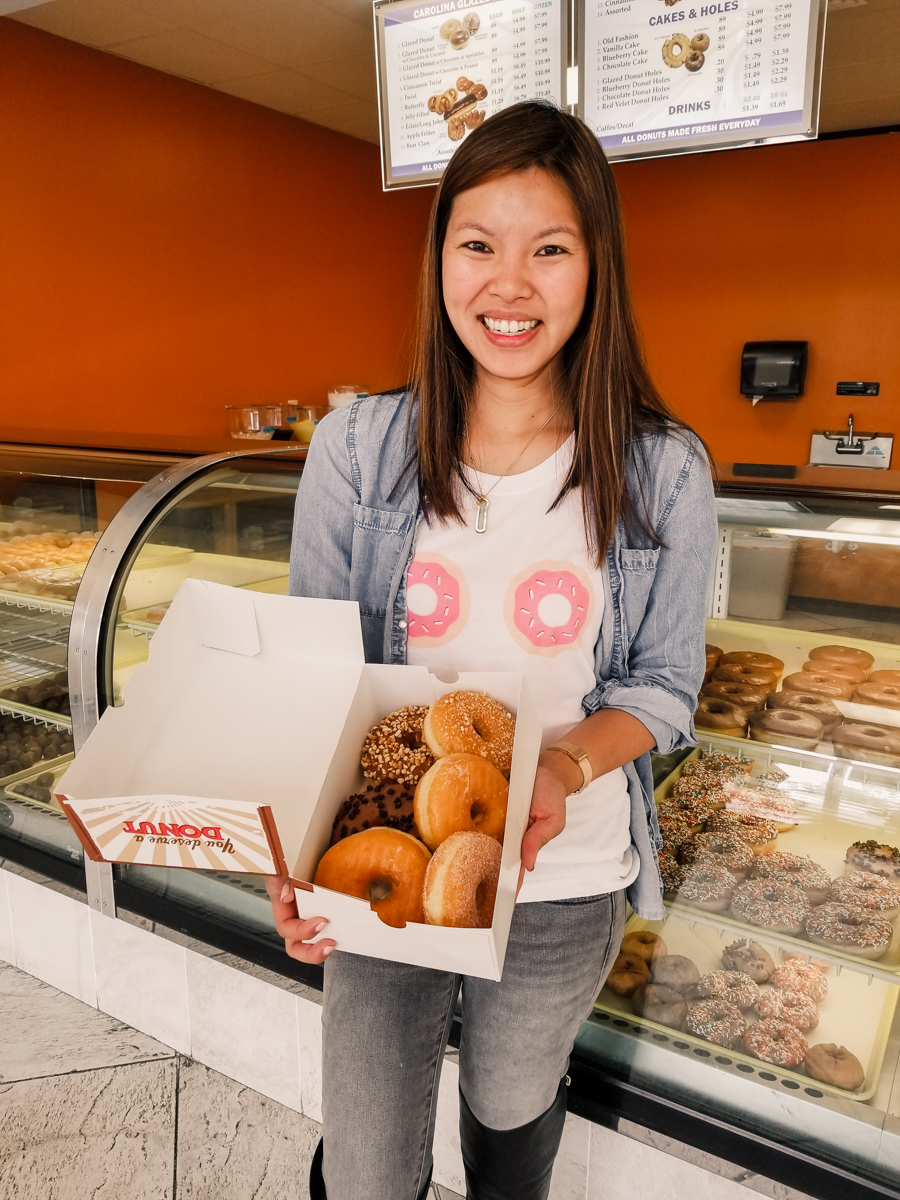 Carolina Glazed Donuts is what I call a strip mall gem. In other words, it occupies an unassuming location, nestled amongst other stores in an ugly strip mall, but once you try their products, you remember you can't judge people, books, and donut eateries by their humble cover. This no-frills donut shop has fluffy light donuts. They keep their freshness longer than some donuts so don't be shy when ordering. They also fill up their jelly donuts to order. My tiniest wish is that they glaze their donuts on both sides instead of just the top. I'm greedy, I know.
Carolina Glazed Donuts
5400 S Miami Blvd, Durham, NC 27703
NC Jelly Donuts
I've first encountered NC Jelly Donuts' donuts when Sugarface brought some home from work. They were even amazing the next day. We knew we'd have to experience these donuts again despite it being kind of a trek from our Chapel Hill/Carrboro home base. There are two locations, one in Mebane and the other in Burlington. On our way back from a trip to Asheville, we loaded up on NC Jelly Donuts. Loading up is easy to do as their donuts are very inexpensive and there is a five dollar credit card minimum. Their glazed yeast donuts are my favorite. They too, fill their jelly donuts to order.

NC Jelly Donuts
Burlington, NC and Mebane, NC
ncjellydonuts.com
Duck Donuts
It's hard to beat customized made-to-order hot donuts by one of North Carolina's pride and joys, Duck Donuts. I even love their seasonal special donuts like the Lucky Charms donut they featured in March. Treat the kid in you and watch with wonder as they make your donuts. Eat right away when they're still hot! My favorite donut on their everyday menu is their maple bacon donut! I am grateful that my Texas friends in Houston now have Duck Donuts! It's fun to see their Duck dynasty grow!

TIP: On Friday, June 7, customers can visit any of the Duck Donuts locations and receive a free bare, cinnamon sugar or powdered sugar donut, no purchase necessary!
Duck Donuts
duckdonuts.com
Acme's Sunday Brunch Donuts
And while we're on the topic of special Sunday donuts, Acme's Sunday Brunch is one of my favorite brunch menus around town (Their Salmon Puff Pastry Pie and their Captain Crunch waffles are SO good). What also makes their brunch menu special is their Hot Acme Doughnuts, which includes chocolate, raspberry, and maple donuts. Order one of the table!
Acme
110 E Main St, Carrboro, NC 27510
acmecarrboro.com
Bonus Donuts from outside the Triangle
And if you're willing to drive a small number of hours for good food, here are two more options for you in Asheville and in Carolina Beach.
Freshly Fried Glazed Donuts from Britt's at Carolina Beach
If you're beaching at Carolina Beach, please do yourself a favor and check out Britt's. Open since 1939, Britt's Donuts draws long crowds into their boardwalk storefront with just one thing on their menu, classic glazed donuts. That's right, that's ALL they sell and once you take a bite out of their fresh from the fryer donuts, you'll understand why they don't need to offer anything else. Please remember that they're cash only. If you forget to bring cash, it's worth finding an ATM right away!
Britt's Donuts
11 Carolina Beach Ave N, Carolina Beach, NC 28428
brittsdonutshop.com
Hole – Asheville
Hole Doughnuts is located in a darling cottage in the equally darling town of Asheville. Inside, sits a low-level bar, giving those who sit there front row seats to the donuts being made to order. The misshapen shapes of these crispy on the outside, soft and chewy on the inside donuts made me very happy.
Hole Doughnuts
168 Haywood Rd, Asheville, NC 28806
hole-doughnuts.com
This concludes my list of best donuts in the Triangle. I plan on editing this list as I continue to eat my way through the area. First on my list to try next is:
Baker's Dozen in Raleigh
6320 Capital Blvd #123, Raleigh, NC 27616
So, friends, Who makes your favorite donuts? Tell me where and what you like to order in the comments!
For more desserts in the Triangle, check out my guide to Best Frozen Desserts in the Triangle. And there's even more Triangle content on my Ultimate Guide to the Triangle.
Follow my eating adventures and happenings on Instagram. You can also see what is catching my attention in the food world on Twitter and Facebook. Oh, and I just launched a Youtube channel. If you'd like some behind the scenes content or learn more about creating content yourself, you can join my Patreon!
Possibly Related Blog Posts (automatically generated)