At the beginning of 2020, with hope in my eyes and hunger rumbling in my belly, I shared a post titled, "20 Yummy Bites to Ring in 2020 in the Triangle and Beyond." Little did I know what a dumpster fire 2020 would be! Now to close out this dreadful year and in an attempt to focus on silver linings, I'm sharing 20 of my Favorite Bites in 2020. This list was heavily North Carolina because of COVID, but somehow I managed to leave the state four times between January and March, so you'll also find bites from South Carolina, Texas, and Louisiana on this list!
Whipped Feta dip from Butcher & Bee in Charleston, South Carolina
In January, I spent a week in Charleston with my friend, Kathy. One of her favorite bites from Charleston became one of my favorite bites of 2020! She introduced me to the whipped feta dip at Butcher & Bee. How does something feel both light and decadent? I hope they're faring COVID-19 well enough for us to keep visiting when it's safer to travel! I also quite loved their hot chicken sandwich. While not the level of spice I have come to expect from hot chicken sandwiches, it was still a stellar fried chicken sandwich. And speaking of hot chicken, they also have another location in Nashville!
For a round up on desserts in Charleston, read this post!
Butcher & Bee
1085 Morrison Dr, Charleston, SC 29403
butcherandbee.com
Crawfish Cheesecake by Abby's Singer Bistro in Shreveport, LA
Also not pictured from the fantastic Abby Singer's Bistro was duck nachos and a Mardi Gras themed margarita flight. This bistro is inside the nonprofit movie theatre, Robinson Film Center in Shreveport, Louisiana. This bistro and theatre combo elevates the typical movie and dining experience. I'm so grateful I was able to visit this gem during my trip to Shreveport in February for Mardi Gras. Boy, does it feel like a lifetime ago with the year that we had!
Abby Singer's Bistro
617 Texas St, Shreveport, LA 71101
robinsonfilmcenter.org/abby-singers-bistro/
Smothered Chicken Wings from Eddie's Restaurant
I thought I was well-versed with Soul Food living in Texas and North Carolina, but Shreveport-Bossier introduced me to a few more dishes and subsequently changed my life. Namely, the smothered chicken wings and the stuffed shrimp! I mean who doesn't love a rich gravy? I had both at an unassuming food shack on Hollywood Ave in Shreveport called Eddie's Restaurant. What they lack in ambiance and space, they made up at least ten times over with flavor. They were even named "Best Soul Food Restaurants in the South" by Southern Living in 2015.
Eddie's Restaurant
1956 Hollywood Ave Shreveport,La
eddiestuffedshrimp.com
Tapatío Ramen at Birrieria el Patron 323
How do you 10x your quesabirria tacos? Well, you add noodles! Popular Raleigh food truck, Birrieria el Patron 323 serves birria ramen on the weekends! They use the same broth they stew their meat to uplevel the Tapatio Ramen. They then add birria meat on top! Get this with the ever-popular quesabirria tacos!
Birrieria el Patron 323
421 Chapanoke Rd #103, Raleigh, NC 27603
instagram.com/birrieriaelpatron323
Bánh mì Saigon Sandwiches & Bakery
My friend Arturo introduced me to the best banh mi sandwich I've found in North Carolina so far. It's sadly an hour away from me in Greensboro! Bánh mì Saigon Sandwiches & Bakery is strip mall gem in Greensboro slinging banh mi sandwiches to order. The bread is perfect! Every time I find myself driving west, I'll be making a stop here.
For more on my favorite sandwiches in the Triangle, read my Sandwich Guide!
Bánh mì Saigon Sandwiches & Bakery
3808 W Gate City Blvd, Greensboro, NC 27407
getbanhmi.com
The Porchetta at Mothers and Sons Trattoria
BUT JUST LOOK AT THAT PORCHETTA. Mothers and Sons is perfect for date night. They have few tables outside and takeout available during COVID too. I really loved every bite of my experience there. I captured more of it in my first ever Instagram Reels!
Mothers & Sons Trattoria
107 W Chapel Hill St, Durham, NC 27701
mothersandsonsnc.com
Ackee from Mum's Jamaican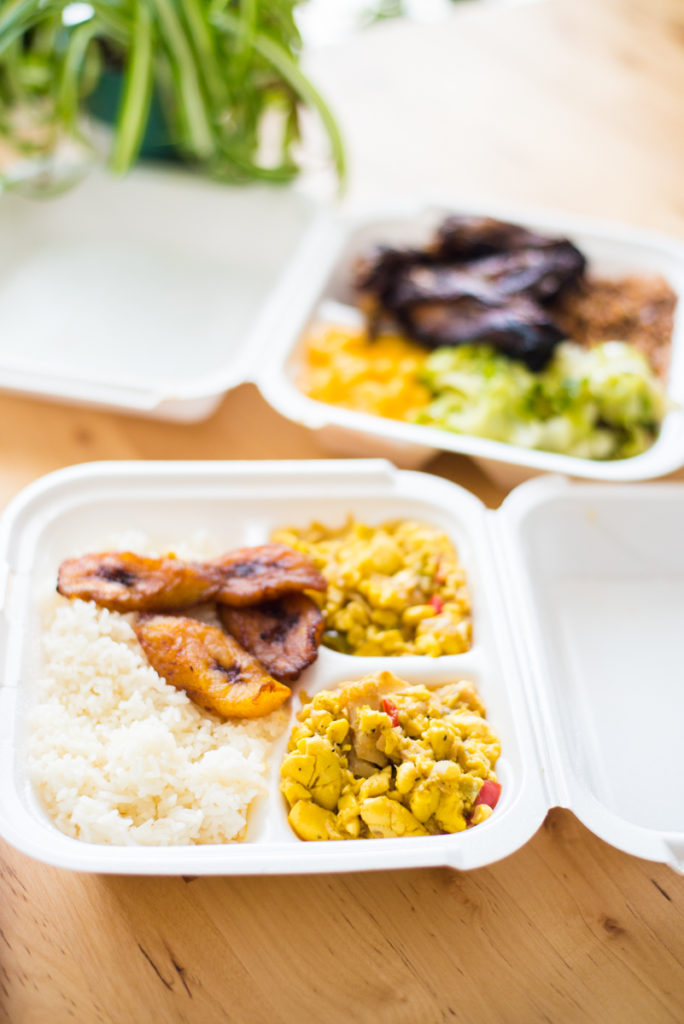 The first time I've had ackee has to be included on this list! One of my best friends married a Jamaican man and has been telling me about a dish made with the tropical fruit, ackee, which is typically served with salted cod. If you haven't had it, ackee has a texture similar to eggs. I was so excited to finally get to try it after hearing about it for years! It's quite comforting and I loved it.
For more Jamaican food around the Triangle, check out this round-up!
Mum's Jamaican
3901 Capital Blvd STE 101, Raleigh, NC 27604
mumsjamaicanfood.com
Korean-Style Corndogs at Bing Su in Houston
Korean-style corndogs! See the video above to see how massive the cheese pulls can be. Bing Su is a relatively new spot in Houston that serves beautiful Bingsu desserts, taiyakis, and also Korean-style corndogs! I'm so grateful I managed to squeeze in a trip to Houston before March!
Bing Su
9798 Bellaire Blvd, Ste E, Houston, TX 77036
Epic Dim Sum Feast at Fung's Kitchen
The only time I had a true dim sum experience (that wasn't take out) in 2020 was during my trip to Houston. Fung's Kitchen is one of the more popular dim sum restaurants in Houston's Chinatown. They have dim sum classics like shrimp dumplings, pork dumplings, sticky rice, taro cakes, turnip cakes, and more. Their dim sum menu has over 150 items! They also have special dim sum dishes you can order like Golden Egg Lobster and Peking duck. That's right! Peking duck is available for dim sum, lunch, and dinner at Fung's Kitchen.
Bonus tip: Fung's Kitchen's lava cakes are so addictive. Don't forget to order a plate or two.
Fung's Kitchen
7320 Southwest Fwy #115, Houston, TX 77074
eatatfungs.com
Beautifully Curated 18-Course Omakase at Soto in Austin, Texas
I was on a trip to Austin in March. Right before lockdown. My friends and I were so anxious about what was about to unfold. My friends Jane and Hayden and I came to Soto to share a couple of dishes and stayed for Soto's 18-course omakase. It was such a surreal experience. To share a breathtaking meal at a restaurant during a pandemic. We were unsure about whether we should be eating out at all, but looking at the empty restaurant, chatting with Chef Andy, and feeling his own fears, I'm grateful we shared this quiet, somber, exiquiste, and hopeful meal. All throughout 2020, I've felt deeply for the restaurant owners and servers who are impacted by the pandemic. And hearing Chef Andy saying, "I'm scared. I have four kids." has stayed with me. I hope to see Chef Andy again at Soto on the other side of COVID-19. If you want to see more photos from this beautiful meal, check out this Instagram carousel I posted.
Soto
1100 S Lamar Blvd Ste 2115, Austin, TX 78704
sotosouthlamar.com
Dumplings from The Dumpling Lady (CLT)
One thing about falling in love with food while you're traveling is the bittersweet knowledge that you can't eat your delicious discovery every day when you return home. Luckily for me, Charlotte is just a few hours away from the Triangle. I worked a photoshoot close to Charlotte and took the opportunity to check out a couple of food stalls at The Optimist Food Hall. The Dumpling Lady had a long line and after sampling her dumplings, I. Get. It. Pictured is the Sichuan dumpling! I can't wait to return!
The Dumpling Lady
1115 N Brevard St, Charlotte, NC 28206
thedumplinglady.com
The Lobster Sushi Roll from Zukku Sushi in Charlotte
Down the (food) hall from The Dumpling Lady is Zukku Sushi. That lobster sushi roll was not just eye-candy to share on Instagram, but it was so good! Arturo and I spent all day eating in CLT that day, and I wish we had more stomach space to sample more of Zukku Sushi's menu. I'll just have to come back!
Zukku Sushi
1115 N Brevard St, Charlotte, NC 28206
zukkusushi.com
BottleDog Bites & Brews
But have you had hot chicken poutine 😳?
I asked Anh-Tuan, who helps me often with this blog behind the scenes, where he'd like to eat for his birthday, and he had a hankering for hot dogs. These dogs were bacon-wrapped! And then we noted an expansive menu filled with amazing bar cuisine, like, and it bears repeating, HOT CHICKEN POUTINE.
BottleDog Bites & Brews
8306 Chapel Hill Rd, Cary, NC 27513
bottledogcary.com
Teppanyaki Eggplant from G.58
One of my favorite dining experiences in 2020 was a multi-course tasting at G.58. G.58 is a fine dining Chinese restaurant worth visiting if you haven't yet! One of my favorite courses from my last meal there was the teppanyaki eggplant pictured above. So good! You can also get Peking Duck here!
To read about my first experience of G.58 from 2019, check out this post.
G.58 Cuisine
10958 Chapel Hill Rd, Morrisville, NC 27560
g58cuisine.com/
Yearly-Awaited Lobster Roll from Saltbox Seafood Joint
Saltbox Seafood Joint, featured in my Black-Owned Durham Restaurants article, has a yearly-awaited Thanksgiving tradition. The Tuesday before Thanksgiving Thursdays, Saltbox Seafood Joint features the meaty and buttery lobster roll. People line up as early as 9 am in hopes to make it before they sell out. They open at noon!
So, friends, go ahead and put this in your calendar for November 2021.
Saltbox Seafood Joint
608 N Mangum St, Durham, NC 27701
saltboxseafoodjoint.com

Matcha Mousse Cake at Asali Desserts & Cafe
Asali Desserts makes some of the most beautiful desserts in the area. Pastry Chef and Owner Hanadi is extremely talented and creative. She had a matcha mousse cake that was amazingly balanced. Matcha can be an overpowering flavor if not handled with finesse. This silky mousse cake was one of my favorite Matcha desserts in the Triangle!
Asali Desserts & Cafe
107 Edinburgh S Dr. Suite 106-A, Cary, NC 27511
asalievents.com/cafe
Ube Pandesals from Bad Oven
While we are talking about desserts, have you had ube before? It's a mildly sweet yam that is often used for desserts in Asia. You might have noticed a surge in popularity in White America when Trader Joes started carrying Ube Mochi Pancakes. (I did a tasting of these on Youtube with Sugarface.)
Enter the ube pandesals from home baker Bad Oven. These pandesals had an ube filling that was creamy and complemented the fluffy bread so well. Not sure about ube? I also highly recommend her coffee buns!
You can read more about Bad Oven on my dedicated blog post.
Bad Oven
https://order.badoven.com/
That time self-reliance tasted like strawberry sauce
I know I'm not alone in entering personal uncharted territory in my own kitchen. (If you read up on the owner of Bad Oven above, you'll know she started baking in the pandemic!) While many did far harder things like baked their first sourdough, I made simple easy things I previously had no idea were easy! Like this three-ingredient strawberry sauce! This was a top 20 favorite bite of 2020 for me simply because I made it, and it made me feel proud.
Favorite Reuben in the Triangle goes to Mookie's New York Deli
Mookie's New York Deli opened in Cary in July 2020. Bless all the new restaurants that opened during a pandemic. During the last week of the year, I dined on Mookie's patio and experienced the gloriousness that is their reubens. You can choose up to two different kinds of meats. Pictured is the pastrami and corned beef. Their portions are GENEROUS. I also loved their chopped liver dip with bagel chips!
Mookie's New York Deli
1010 Tryon Village Dr Suite 705, Cary, NC 27518
mookiesnydeli.com
Beer-Boiled Italian Sausage by Pie Pushers
Guys. The Deep Fried Devito from Pie Pushers is one of my 2020 obsessions. I'm so glad Arturo introduce me to Pie Pushers' beer-boiled Italian sausage, rolled up and deep-fried, served with the most amazing whole grain stout mustard. It was my FAVORITE bite from my progressive dinner with The Streetery.
Pie Pushers
117A W Main St, Durham, NC 27701
piepushers.com
So that concludes my list of 20 favorite bites in 2020. I'd love to hear what your favorite culinary experiences were in 2020. Please leave a comment and share!
Follow my eating adventures and happenings on Instagram. You can also see what is catching my attention in the food world on Twitter and Facebook. Oh, and I just launched a Youtube channel. If you'd like some behind the scenes content or learn more about creating content yourself, you can join my Patreon!
Possibly Related Blog Posts (automatically generated)