The city of Durham is uplifting their community with a new weekend event taking place downtown! The Streetery in Durham is a weekend event running from now through December 19 from 5:00p to 9:30p. Select streets in downtown Durham will be closed off to make room for outdoor seating. The added outdoor seating will hopefully revitalize the local food and beverage sccene in light of COVD-19.
I went opening weekend as an invited guest by Durham CVB and had the great joy of embarking on a progressive dinner! From now through December, I bet you and yours would love to experience connecting with Durham's community this way. They'll be local artists and street artists performing providing entertainment too!
In the course of one evening, I visited Durham establishments and it was such a joyful night!
First, a Whiskey Flight From The Oak House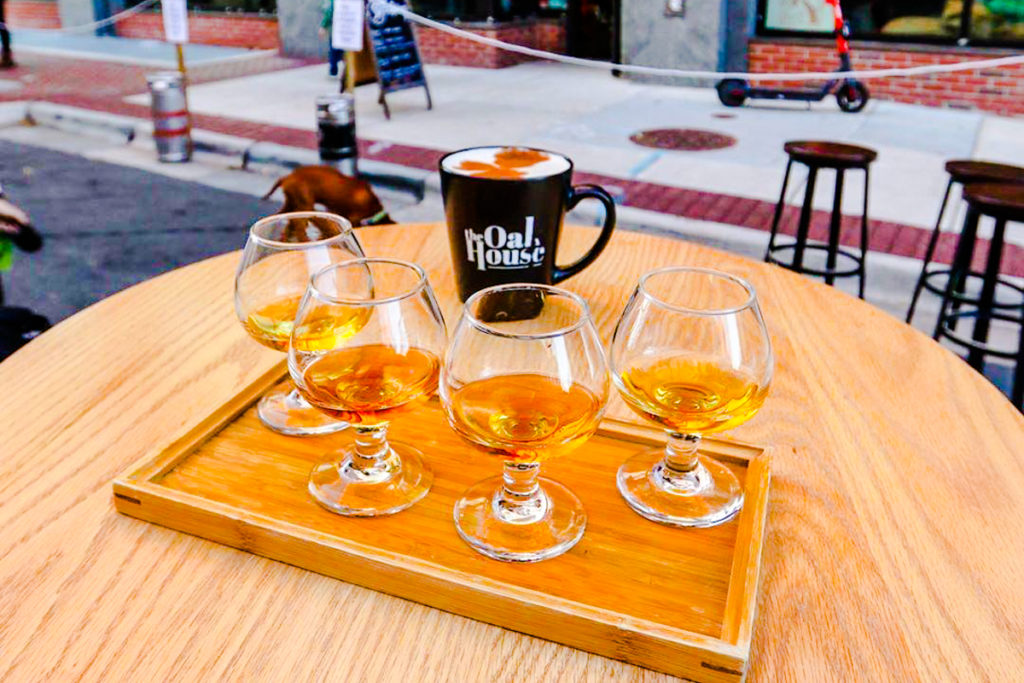 The Oak House has some limited seated inside during COVID-19 but during The Streetery, you can take your coffee, snacks, and drinks outside! They have a roped off street seating available that they ask you use if you have alcoholic beverages. You're welcome to bring outside food to their roped off area. And that's exactly what we did.
The Oak House Durham
126 W Main St, Durham, NC 27701
oakhousedurham.com
Empanadas and Sides from Luna Rotisserie and Empanadas
While we sipped our beverages at Oak House, I let my friend Arturo guard our tables while he sipped, and I placed an order at Pie Pushers across the street. Then I walked to Luna Rotisserie and Empanadas while we waited for our pizza order. We dug into some chorizo empanadas and some delicious plantains. I recommend both!
Luna Rotisserie and Empanadas
112 W Main St, Durham, NC 27701
lunarotisserie.com
Pie Pushers for Pizza and DEEP-FRIED SAUSAGE
I asked Arturo if he had any requests from Pie Pushers and he said his only non-negotiable was something called the Deep Fried Devito. Guys. The Deep Fried Devito is my new obsession. I'm so glad Pie Pushers and Arturo introduced me to their beer-boiled Italian sausage, rolled up and deep fried, served with the most amazing whole grain stout mustard. I really liked everything I ate this evening, but this was my FAVORITE bite!
We also split a half pie of the Fickle Chorizo Pizza. I guess you can say I love chorizo. Named for where they get the chorizo (Fickle Creek Farms), this pizza was topped with chorizo, pesto, and bell peppers. I saved a couple of slices for Sugarface, and he nodded in approval while he ate.
Pie Pushers
117A W Main St, Durham, NC 27701
piepushers.com

Topping off with Tapas at Copa
Our last stop was Copa for tapas! One of my all-time favorite things to order is coquettes. It always gives me a nostalgic longing for Barcelona. I felt grateful to end the night with a mental vacation to one of my favorite lands.
Copa
107 W Main St, Durham, NC 27701
copadurham.com
All in all, a joyful evening. 2020 has been such a whirlwind and if you can come together while socially distancing and supporting struggling small businesses, count me in! For more about The Streetery in Durham, including maps and which vendors are participating, please visit their website.
For more on Durham, check out my list of Black-Owned Restaurants and Food Businesses in Durham. For more blog posts about the Triangle area, check out my Ultimate Guide to the Triangle!
Follow my eating adventures and happenings on Instagram. You can also see what is catching my attention in the food world on Twitter and Facebook. If you're inclined, you can support me and see some behind-the-scenes through Patreon. Oh, and I just launched a Youtube channel!
Possibly Related Blog Posts (automatically generated)