If you follow me for any short period on Instagram, you might already know that I'm obsessed with noodles. I could really slurp them up every day, and if I go for more than three days without eating any noodles, then I become a cranky and irrational noodle addict going through withdrawal. So I thought I'd share some of my noodle obsession with you and list where I've enjoyed going for my noodle fixes around the Research Triangle (Raleigh-Durham-Chapel Hill) area.
Note: This noodle guide was first published in February 2018. Lasted updated July 2023.
Miso Ramen Bar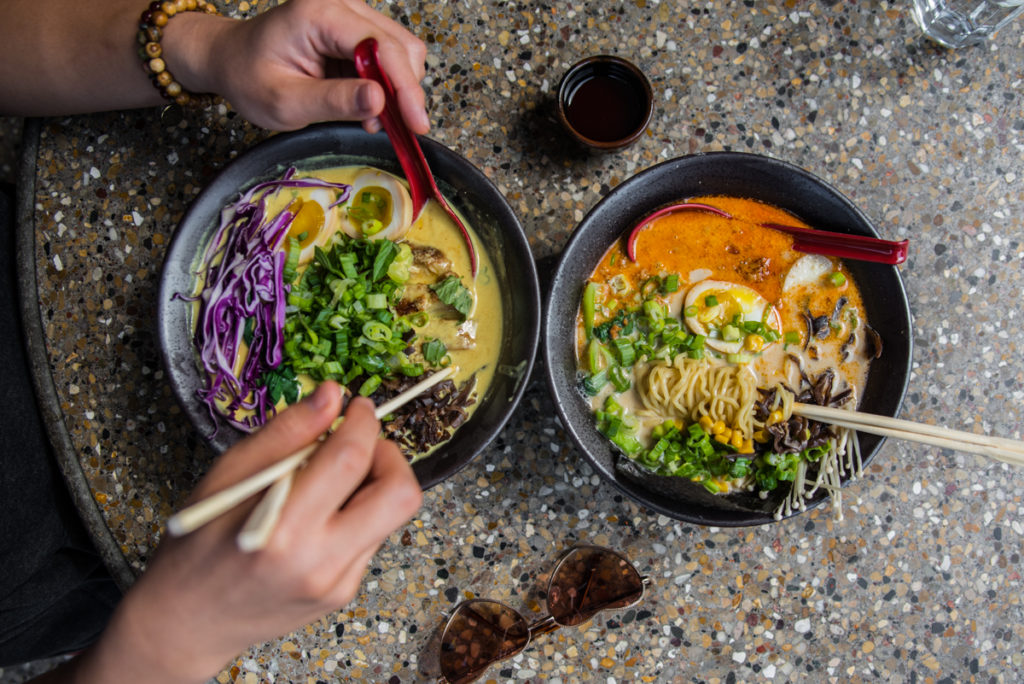 Opened in early 2020, right before the pandemic, Miso Ramen is fairing well on word of mouth. Their ramen menu is diverse and I've heard so many great things about their baos. They are open for in-dining during COVID but also have patio seating outside.
Miso Ramen Bar
970 High House Rd #128, Cary, NC 27513
misoramenbar.com
Birrieria el Patron 323
How do you 10x your Taco Tuesday? Well, you add noodles! Popular Raleigh food truck serves birria ramen on the weekends! They use the same broth they stew their meat to uplevel the Tapatio Ramen. They then add birria meat on top! Get this with the ever-popular quesabirria tacos! Follow them on social media to keep updated on their hours!
Birrieria el Patron 323
421 Chapanoke Rd #103, Raleigh, NC 27603
instagram.com/birrieriaelpatron323
Rose's Noodles, Dumplings, and Sweets
They change their menu often but you can always find hand-pulled noodles and ramen here! I also hear they serve pho on their breakfast menu and can't wait to scope it out! I'm so impressed by this spot for getting Asian flavors down pat. They also have an extensive bakeshop that I need to further investigate. They blew me away with their mochi pound cake!
Rose's Noodles, Dumplings, and Sweets
121 N Gregson St, Durham, NC 27701
rosesdurham.com
Good Harvest
An all-you-can-eat hot pot restaurant with hand-pulled noodles? Count me in! Good Harvest also was the first hot pot place I've seen with hand-pulled noodles. Definitely bring friends and come hungry. To read my dedicated article on Good Harvest click here.
Good Harvest
1104 Ledsome Ln, Cary, NC 27511
M Kokko
Expect a line when you visit M Kokko, but if you are patient you'll be rewarded. Their ramen has been my favorite in the area so far! The broth is rich where Dashi's feel like it could be richer. The pork chashu is so tender and perfect. Oh, and there's a vegan udon soup that inspires food envy. They also have an amazing fried chicken sandwich worth checking out!
M Kokko
311 Holland St b, Durham, NC 27701
www.facebook.com/MkokkoDurham/
Sister Liu's
Also in Durham is this hole in the wall that has made quite a splash in the Triangle since opening. Bon Appetite is soon featuring Sister Liu's for their specialty noodles and dumplings! They have unique Chinese burgers too but I am partial to their noodles and dumplings. You can buy their dumplings frozen to take home! Pictured is a spicy spinach noodle dish topped with beef mushroom sauce.
Sister Liu's
5504 Durham-Chapel Hill Blvd #103, Durham, NC 27707
sisterliuskitchen.com
H-Mart
My mom is so happy to hear that there is an H-Mart in my new state! She often shops at H-Mart in Houston and funnily enough, H-Mart just expanded to Austin, my last home, last week! My Austin friends have reported lines around the block with this new expansion. I have a soft spot for Asian supermarkets with food courts and H-Mart has a solid food court. Pictured above is Korean black-bean noodles (Jajangmyeon). I keep dreaming about this bowl. I must make my own dream come true soon.
H-Mart
1961 High House Rd, Cary, NC 27519
hmart.com
Bonjour Banh Mi & Tea
Bonjour Banh Mi & Tea has comforting pho, banh mis, and grilled meats and rice dishes. I sampled my usual order of brisket pho (pho chin), summer rolls, and grilled pork banh mi.
Bonjour Banh Mi & Tea
2121 TW Alexander Dr, Morrisville, NC 27560
bonjourbanhmi-tea.com
Tonbo Ramen
Located downtown Raleigh is Tonbo! I've tried their Tonkotsu ramen. The Tonkotsu broth is a bone broth that is cooked down for 20-24 hours and the flavors are delicate. The best part of their Tonkotsu ramen is the pork belly. Tonbo uses Berkshire Kurobuta pork belly. My favorite dish by them though is their Mazemen (broth-less ramen). I also featured their mochi donuts in my Matcha Guide to the Triangle!
Tonbo
211 S Wilmington St, Raleigh, NC 27601
tonboramen.com
Thai Station in Carrboro
Located in a repurposed old train station, Thai Station has such a fun dining area. They are currently also offering curbside during the pandemic. We are really into their crab and cream cheese spring roll. I alternate my noodle order from the Pad See Ew, Pad Kee Mao, Pad Thai, and the Tom Yum Noodle Soup.
For more of Carrboro's best hits, read my Carrboro Restaurant Guide.
Thai Station
201 E Main St Suite C, Carrboro, NC 27510
thaistationnc.com

Jujube

Jujube is a cozy little Asian-inspired restaurant. Pictured above is their popular dinner dish, Bolognese (hoisin braised shredded pork, scallions, wide rice noodles).  The flavors were very rich and they may ask if you'd like some rice to go with your noodles. I declined, but I think you should go for it! On point flavors but a tad salty. Mixing in some of the rice would have made it just right.
Jujube
1201 Raleigh Rd L, Chapel Hill, NC 27517
jujuberestaurant.com
Noodle Boulevard
I left my thighs in the photo above so you can get a sense of how huge the bowls at Noodle Blvd are! Though M Kkoko has my favorite ramen, Noodle Blvd may be my favorite ramen establishment due to lack of line and having a bigger ramen selection than M Kkoko. I'm especially fond of their Chicken Curry Ramen. I get it spicy!
Noodle Boulevard
919 N Harrison Ave, Cary, NC 27513
noodleblvd.com
Pho Vietnam
I always get the same thing when I order pho, so I judge my pho restaurants by the Pho Chin (beef brisket pho.) Their beef brisket is so wonderfully tender compared to other popular places.
Pho Vietnam
1284 Buck Jones Rd, Raleigh, NC 27606
phovietnamraleigh.com
Rasa Malaysia
I like that there's a Malaysian restaurant in Chapel Hill, my new hometown. Rasa Malaysia gave me my first experience with the traditional Malaysian dish, Roti Canai (not a noodle dish). My favorite noodle offering from Rasa Malaysia is  Penang Char Kay Teow (pictured above). The noodles have an amazing texture and smoky flavor. They also have noodle soups and other noodle stir-fries, including Drunken Noodles and Pad Thai.
Rasa Malaysia
410 Market St, Chapel Hill, NC 27516
rasamalaysiach.com
Ni Asian Kitchen

Speaking of Malaysian food, whenever I have an appointment in Raleigh, I try to stretch my time to make the long drive more worth it. After a recent drive, I found a strip mall gem called Ni Asian Kitchen. They had a couple of Malaysian dishes on their menu and I ordered my favorite, the Char Kway Teow. I wish it had fish cakes in it but it still hit the spot during my last solo lunch date.
Ni Asian Kitchen
8817 Six Forks Rd, Raleigh, NC 27615
niasiankitchen.com
Bua Thai Cuisine
Speaking of Drunken Noodles, it's my favorite Thai dish and I can really write an entire list of where to find Drunken Noodles in the area. On this list, I would definitely list Bua Thai Cuisine. I also really like their Pad See Ew!
Bua Thai Cuisine
5850 Fayetteville Rd., Ste 101, Durham, NC 27713
buathaidurham.com
Thai at Main Street
And before we leave Thai as a topic. If you have a hankering for Thai while in near downtown Durham, give Thai at Main St. a try!
Thai at Main St.
317 W Main St, Durham, NC 27701
thaiatmainstnc.com
Dashi
Dashi is a beloved ramen shop in Durham. I want to work myself through their non-ramen menu items because though their ramen is good, it's not necessarily my favorite. They do have an expansive menu for ramen so I may just have been hitting the wrong bowls! Of the ones I've tried, I recommend their tonkatsu.
During COVID-19, they're selling ramen kits!
Dashi
415 E Chapel Hill St, Durham, NC 27701
dashiramen.com
Taste Vietnamese
I'm always on the lookout for delicious pho and am sad to report it's been hard to find more than a handful. I quite liked Taste Vietnamese's pho and love planning visits here for lunch before flying out to Texas. (I fly to Texas a lot, and they're close to the airport!)
Taste Vietnamese
152 Morrisville Square Way, Morrisville, NC 27560
tastevietnamese.com
Zanyu Asian Noodles
Is there anything more beautiful than Khoi Soi? I had such a delicious bowl of Khoi Soi from Zanyu Asian Noodles in Raleigh. I want to make my way through more of their menu! The owner lived in Asia and wanted to bring the flavors he loved while living there to the Triangle. What a noble cause. 💖🍲
Zanyu Asian Noodles
Lafayette Village, 8450 Honeycutt Rd, Unit 112, Raleigh, NC
zanyunoodles.com
Namu
Namu has possibly the best garden courtyard in Durham. You can come here for both specialty coffee drinks (I like their Matcha Lattes!) and Korean fare. Pictured is the japchae (Korean glass noodles stirfry) with spicy pork.
Namu
5420 Durham-Chapel Hill Blvd, Durham, NC 27707
www.facebook.com/Namu-Durham-713409472154505/
Co
CO is connected to the AC Marriott Hotel. They offer Asian inspired dishes. I'm a little skeptical of their menu (What is Vietnamese Ramen?). But, I went once and enjoyed their Curry Laksa (pictured above). It's shrimp, shredded chicken, rice noodles, baby bok choy, served in a spicy coconut broth. It was made for delicious leftovers! Their edamame dumplings were good but their Drunken Noodles were almost inedibly salty. I'm still willing to go back and sample more of their menu!
Co
101 Park At N Hills St, Raleigh, NC 27609
eatatco.com
That concludes my list thus far. Did I miss any of your favorites? Leave a comment and let me know!
For more about the Triangle, check out my Ultimate Guide to the Triangle!
Follow my eating adventures and happenings on Instagram. You can also see what is catching my attention in the food world on Twitter and Facebook.
Possibly Related Blog Posts (automatically generated)