You can spend weeks in Houston's Chinatown and still not sample half of its gems. This usually bustling section of Houston has everything you can ever dream of when it comes to Asian food cravings. In this renowned Chinatown, you'll find countless options for bubble tea, trendy Asian desserts, noodles, dim sum, popular global Asian chains, and more! This post highlights over 20 Best Restaurants in Houston's Chinatown!
Editor's Note: This article was originally published in 2020 and last updated 12/2022.
Best Restaurants in Houston's Chinatown
Tasty Point for Personal Hot Pot
Maybe you don't love sharing your food and want your own of everything! Now you can have your own personal hot pot at Tasty Point! Pictured above is their popular Spicy Tawainese Hot Pot; it made the heat-junkie in me so happy. I tasted my friend's herbal broth and that was comfortingly simple. Their broth menu is expansive so I bet you can find something just perfect for you. Don't skip out on their braised pork rice! The portions at Tasty Point are hefty and the pricing is so affordable.
Tasty Point
9110 Bellaire Blvd suite a, Houston, TX 77036
tastypointhouston.com
Lao Sze Chuan Bellaire for Peking Duck and More
Originally hailing from Chicago, Lao Sze Chuan opened in Houston's Chinatown in 2022. It's a wonderful place for dumplings and Peking Duck. An order of Peking Duck also comes with delicious duck soup. That broth was amazing! Check out the video above to see how beautiful the space is!
Lao Sze Chuan
9398 Bellaire blvd, Houston, TX 77036
laoszechuantx.com
Get Wrapped up in Love at Thien Thanh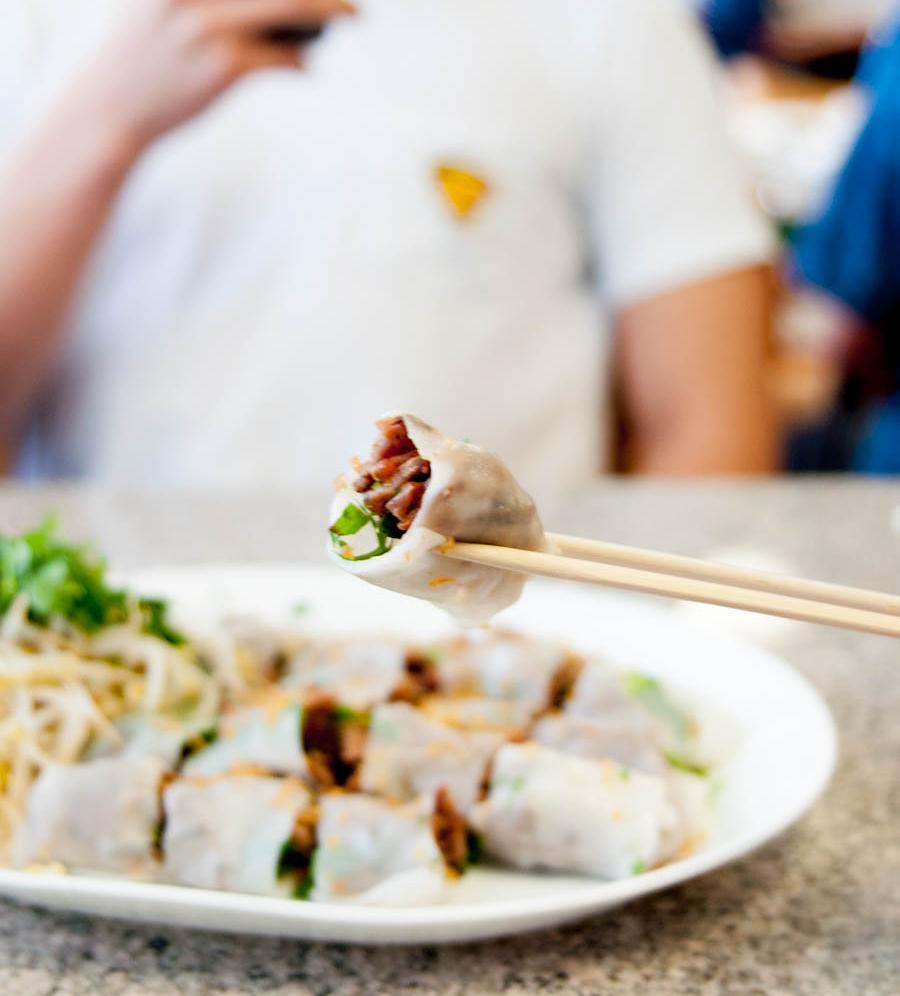 Banh cuon is a Vietnamese dish that I grew up eating and loving. They are delicate rice noodle crepes wrapped around a meat filling. If you're having a banh cuon craving or are simply curious on where to try this dish for the first time, go to a Houston classic, Thien Thanh Restaurant – Banh Cuon.
Tip: They are cash only.
Thien Thanh
11210 Bellaire Blvd, Houston, TX 77072
thienthanhhouston.com
My Baguette for Bo Ne and deconstructed Banh Mis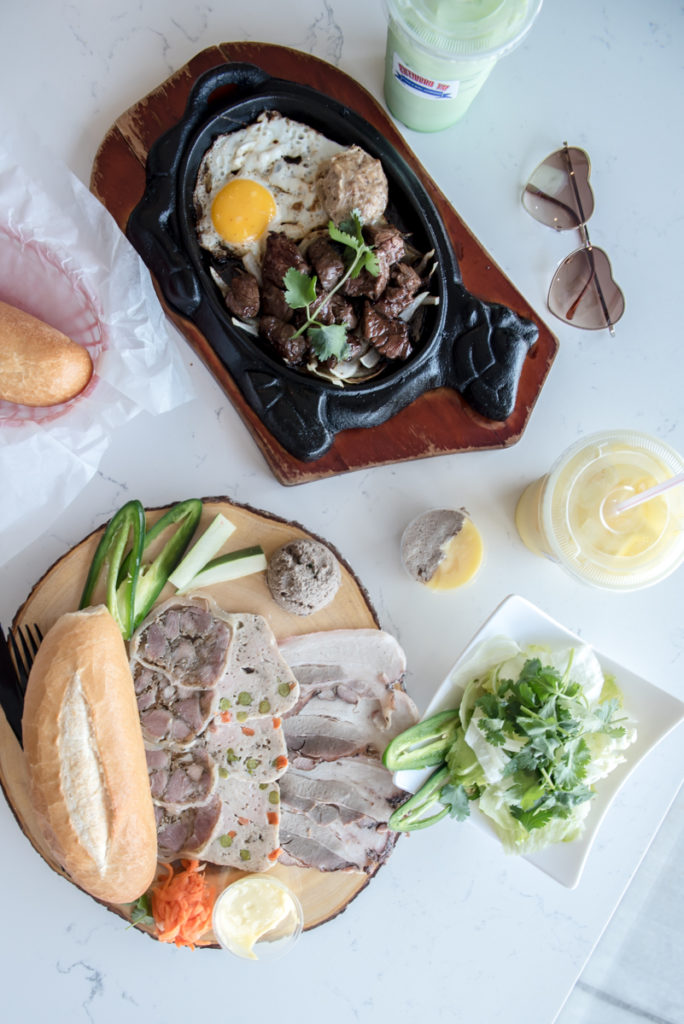 While we're discussing Vietnamese food, there's a newer Vietnamese dish that popped up in the states called "bo ne." It directly translates to "dodging cow." This Vietnamese version of steak and eggs gets its name from the sizzling. I vetted My Baguette and fell in love with their bo ne instantly after trying a few in Houston. In fact, my mom's first experience of bo ne was at My Baguette. She spoke to the owner who lived close to her old neighborhood in Saigon and confirmed that this is not a dish that gets its roots in Vietnam but was first made here by Vietnamese immigrants. Other recommended bites from My Baguette include the meatball stew and the deconstructed banh mis. Their drinks are also delightfully unique. Try their corn milk for a sweet refreshing drink!
My Baguettes
10613 Bellaire Blvd Suite A-125, Houston, TX 77072
Toast to Tom n Tom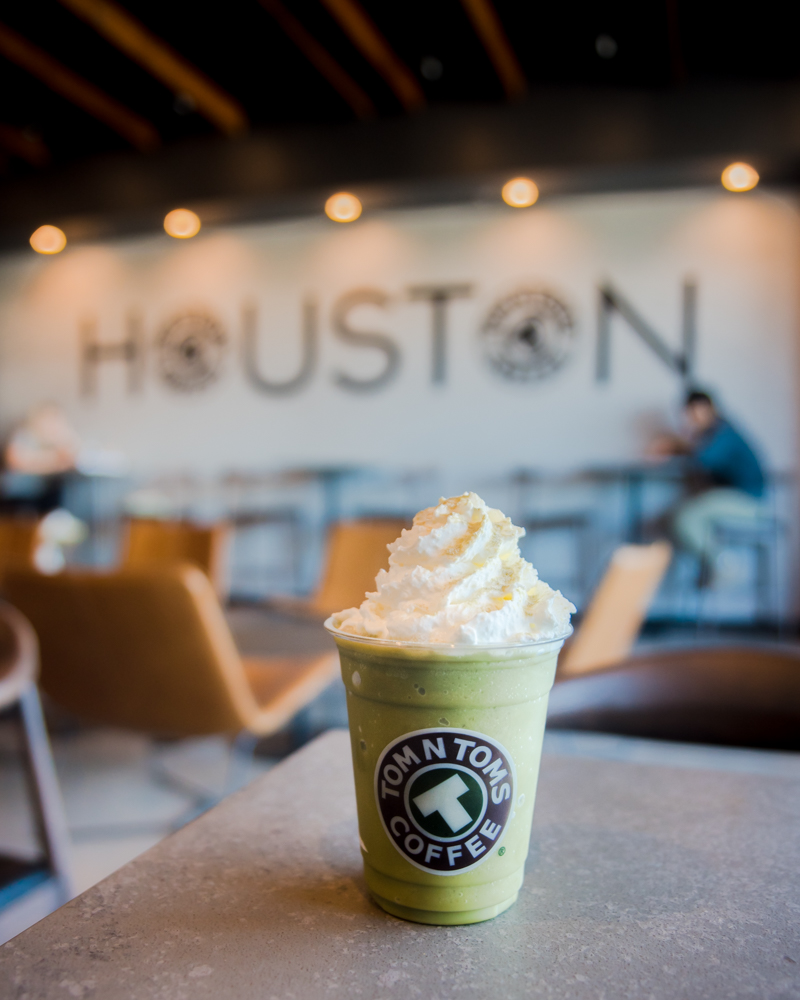 What one of the beautiful things about Houston's Chinatown is access to popular global chains from Asia. Tom n Toms is one such establishment! They originated in South Korea in 2004 and in 2019, opened their first Houston location in the heart of Chinatown! I had already eaten more than my weight in hot pot so I couldn't bring myself to order their beautiful dessert toasts, but this Matcha Tomincino kept me happy while I clocked in some work hours at Tom n Tom.
Tom n Tom
9393 Bellaire Blvd #A5, Houston, TX 77036
tomntomsbellaire.com
Matcha Maiko Cafe is Golden
Sometimes matcha soft serve can taste powdery. Not at Matcha Cafe Maiko! Another well-respected global Asian chain, Matcha Cafe Maiko is a matcha lover's utopia. If you're feeling fancy or want to dress up your Instagram feed, order your ice cream with gold!
Read my Matcha Dessert to Austin
Matcha Cafe Maiko
6650 Corporate Dr suite e-1, Houston, TX 77036
matchacafe-maiko.com
Hold Bae in the Palm of Your Hand
And while we're still talking beautiful soft-serves, also in Chinatown is Bae. Bae has colorful and soft-serve ice cream with a battery of sugary toppings to choose from, from sprinkles, mochi, Pocky sticks, to panda crackers!
Bae
9798 Bellaire Blvd, Houston, TX 77036
https://www.baebae.co/
Light Yourself Up with TEAholic
Located just steps from My Baguette is TEAholic. TEAholic gives you some fun options to enjoy your teas and boba, including in a lightbulb-shaped cup, in a split-cup, or in a carafe so you can build your own adventure! The bobas are fresh and the perfect texture.
TEAholic
10613 Bellaire Blvd #A150, Houston, TX 77072
facebook.com/houston150/

Blkdog Coffee and Beignets Are a Matcha Made in Heaven
I went to Blkdog Coffee to try their famous matcha beignets and stayed for their matcha lattes too. (You might remember I'm obsessed with matcha desserts.) They also have chicken karaage if you're wanting something savory to balance your sweet tooth!
Blkdog Coffee
9630 Clarewood Dr suite a13-b, Houston, TX 77036
blkdogcoffee.com
If you want my complete list of favorite instagrammable desserts read my guide to Instagrammable Desserts in Houston.
Nam Giao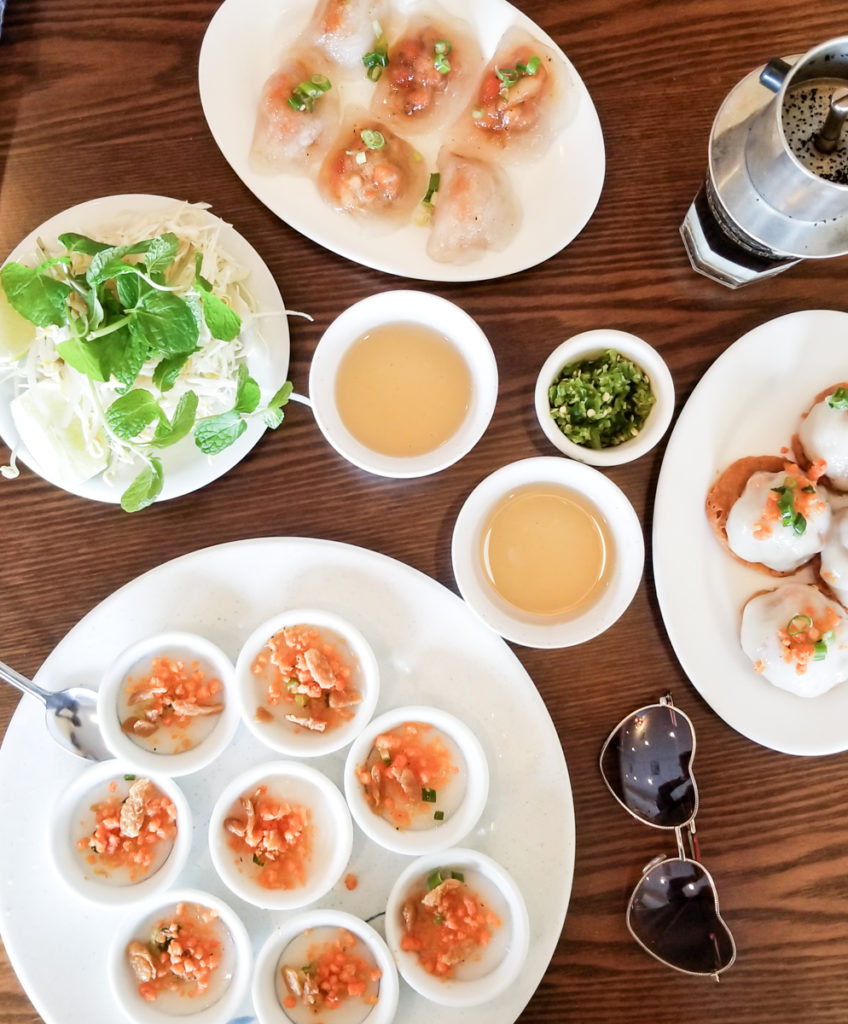 Nam Giao, a hidden gem of a Vietnamese restaurant specializing in cuisine from Huế, Vietnam. They have been a long-time staple in the Houston community but were made even more popular when the Netflix show Ugly Delicious featured them in the Houston/New Orleans episode. You can make a meal off of their appetizers menu. Pictured from top to bottom: Crystal dumplings, Banh Ram It, and Banh Beo. Banh Beo is a must-order. Everything is dipped in their delicious fish sauce.
Nam Giao
6938 Wilcrest Dr, Houston, TX 77072
Bing Su helps you connect with your inner child!
Bing Su is a newer addition to Houston's Chinatown and it's such a joyful spot. They offer beautiful Bingsu desserts, taiyakis, and also Korean-style corndogs! See the video above to see how massive the cheese pulls can be. You can activate your childlike sense wonder and joy here so easily and at a great price point!
Bing Su
9798 Bellaire Blvd, Ste E, Houston, TX 77036
Snowy Village for Both Frozen and Piping Hot Desserts
While we are on the topic of Bingsu, a popular Korean-style shaved ice dessert, I had to mention Snowy Village. Snowy Village is relatively new to Houston's Chinatown, but they've been around the world winning over the general public with their Bingsu desserts. They also make to order fresh Taiyaki with your filling of choice. Pictured above is their new milk tea and boba Takiyaki. The dough they use for these fish-shaped hot desserts is buttery and flakey, and you'll want to immediately order another. Snowy Village is also one of the dozens of restaurants in Chinatown that offer an expansive drink menu!
Snowy Village
9600 Bellaire Blvd Suite 103-A, Houston, TX 77036

Nguyễn Ngọ French Cafe for the Classically French-Vietnamese Sandwiches
Nguyễn Ngọ French Cafe is one of the more popular traditional French-style banh mi shops in Houston. Their game-changer is you can order their classic banh mis with croissant bread which they make in-house. They do not skimp on anything and give generous slatherings of pâté and housemade buttery mayo, two cornerstone ingredients of Vietnamese sandwiches.
Related: My favorite Vietnamese Restaurants of Houston
Nguyễn Ngọ French Cafe
11210 Bellaire Blvd, Houston, TX 77072
Kim Son is one of OGs of Vietnamese Restaurants in Houston
Kim Son first opened in the early 1980s in Houston and has since expanded to multiple locations in Houston. Their Bellaire location in Chinatown has an expansive Vietnamese buffet that includes so many classic Vietnamese dishes like braised pork belly, crispy crepes, and summer rolls. They also have crawfish during crawfish season and a noodle bar.
Kim Son Restaurant
kimson.com

Pour Yourself a cheesy meal at Pepper Lunch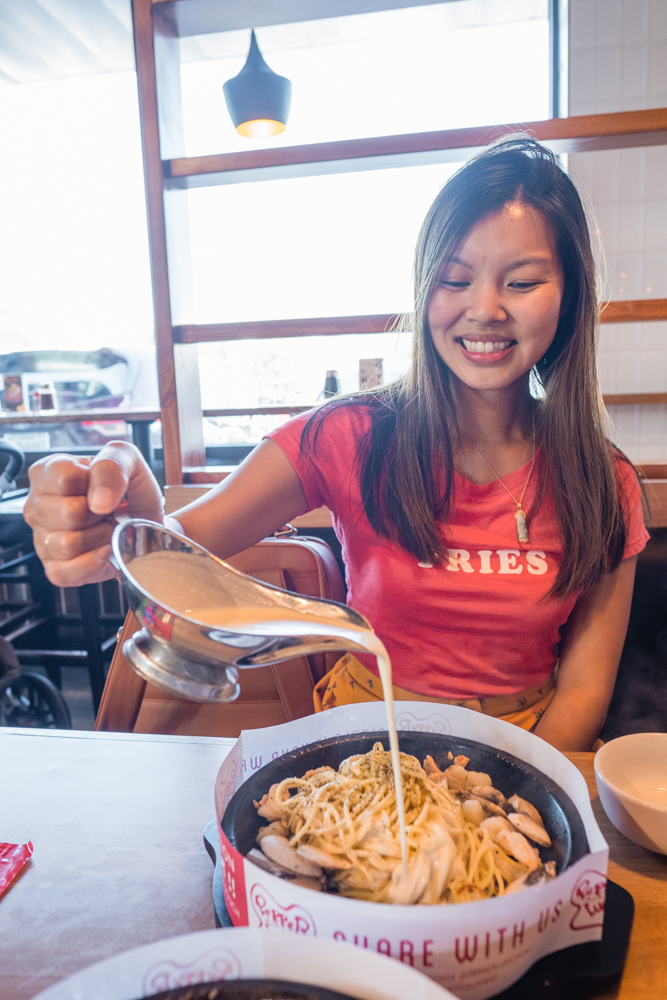 Pepper Lunch is a popular DIY teppan place in the middle of Houston's Chinatown. Cheesy, peppery rice or noodles in a sizzling plate? What's not to like? If cheesy isn't your thing, they also have amazing curry options.
Pepper Lunch
9393 Bellaire Blvd ste c, Houston, TX 77036
http://tx.pepperlunch.us/
Beard Papa's
A few steps away from Pepper Lunch in the same strip mall is beloved Beard Papa. A famous global chain from Asia, they specialize in cream puffs in a variety of flavors! Photographed above is the creme brulee cream puff.
Beard Papa
9393 Bellaire Blvd Suite G, Houston, TX 77036
beardpapas.com
Nu Cafe Proving Snow Can Happen in Texas
Have you had snow ice? Nu Cafe introduced me to my first snow ice almost ten years ago! I like explaining snow ice as the love child of gelato and snowcones. I know matcha and red bean can be a bit of an acquired taste for some; they also have popular flavors like mango and strawberry!
Nu Cafe
9889 Bellaire Blvd #112a, Houston, TX 77036
nucafehouston.com

BAMBU for Vietnamese Desserts and Drinks
Another snow ice purveyor in Chinatown Houston is BAMBU. BAMBU has locations in Houston and one in Austin. They built up a following for their chè. Chè is a Vietnamese word for home-made beverages, dessert drinks, and puddings. It's a great place to meet with friends while you enjoy some special treats and drinks!
Bambu
drinkbambu.com
Fung's Kitchen for an epic Dim Sum Feast
Fung's Kitchen is one of the more popular dim sum restaurants in Chinatown. They have dim sum classics like shrimp dumplings, pork dumplings, sticky rice, taro cakes, turnip cakes, and more. Their dim sum menu has over 150 items! They also have special dim sum dishes you can order like Golden Egg Lobster and Peking duck. That's right! Peking duck is available for dim sum, lunch, and dinner at Fung's Kitchen. I'm currently hosting a giveaway for Fung's Kitchen here.
Bonus tip: Fung's Kitchen's lava cakes are so addictive. Don't forget to order a plate or two.
Fung's Kitchen
7320 Southwest Fwy #115, Houston, TX 77074
eatatfungs.com
ECK is Egg Custard King of Chinatown
ECK is short for "Egg Custard King" and if you try these fresh egg custards, especially when fresh from the oven, you'll agree. This is the best Chinese egg custard I've ever had.
Eck Bakery
6918 Wilcrest Dr # A, Houston, TX 77072
Xiong's Cafe: a True Mom and Pop Spot
Xiong's Cafe is a true mom-and-pop cafe in the heart of Houston's Chinatown. On the door of Xiong's Cafe's unassuming brick-and-mortar is a literal paper sign that says "Xiong's Cafe." They've been around for many years with a loyal fanbase, some of whom have been going since childhood. I went for the first time and found the service so friendly and the dumplings in beef soup comforting and delicious. Their chicken cutlets with vegetables and tea egg were also excellent.
Xiong's Cafe
9888 Bellaire Blvd #150, Houston, TX 77036
Get your Dumpling Fix at One Dragon
I have a theory that the more dumplings you eat, the more you'll want to eat. It's a positive feedback loop! A great place to get Shahaniese-style fare is One Dragon. They've been open since the early 80s and have been quietly serving the community with good eats. They have classic soup dumplings, but even more notable is their crispy bottom pork baos (pictured above on the right.) They're juicy with a crispy exterior, and you'll want to eat them Kungfu Panda style.
One Dragon
9310 Bellaire Blvd, Houston, TX 77036
Niu Yi Zui Lamen
You can find hand-shaven noodles with perfect texture at Niu Yi Zui Lamen. Get them in flavorful soups or dry with tender meat and flavorful seasonings. Their menu is concise but what little options they have, they make up with excellent quality.
Niu Yi Zui Lamen
9968 Bellaire Blvd #220, Houston, TX 77036
---
So, friends, this concludes my list of Houston Chinatown gems. Tell me some of your favorite Houston Chinatown spots in Houston in the comments! I'd love to support them too!
Share This Post on Pinterest with These Images
Follow my eating adventures and happenings on Instagram. You can also see what is catching my attention in the food world on Twitter and Facebook. I
Possibly Related Blog Posts (automatically generated)