Update 2018 – Wildcat Willies is now permanently closed.
Wildcat Willies Ranch Grill & Saloon
897 Zion Park Blvd
Springdale, UT 84767
(435) 772-0115
I just came back from a trip to Zion National Park. I blogged about the trip on my personal blog and I mentioned how surprised I was to be impressed by a meatloaf. If there was a list of unsexy but comforting foods, I think meatloaf would make top ten. One of my travel companions told me she didn't get the appeal of meatloaf. And though I've made and consumed meatloaf, I never thought I'd write about it. Yet here I am. About to tell you about the best meatloaf I've ever had.
I didn't expect much of a culinary experience when visiting Zion National Park. I went for the park and for the bonding with my friends. I trusted my server but again didn't expect to be blown away by the wild game meatloaf. What makes it special? Could be the bison and elk ground up with beef. Could be that it's bacon wrapped. And or it's smothered by a Guinness gravy.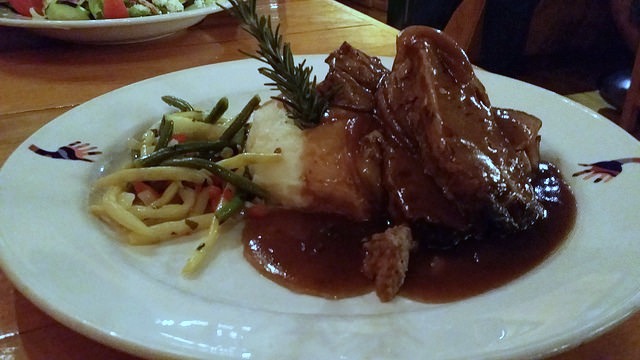 Ashley who wasn't into meatloaf took a bite. And then later took another bite off my plate. "This is the first meatloaf where I didn't think it was just a loaf of meat." So if ever you go to Zion National Park (which you should), I strongly urge you to go to Wildcat Willies Ranch Grill & Saloon and order the meatloaf.
We came back the next morning. I ordered one of their late riser's breakfasts (entrees that are served after 11 am). The stuffed (with sausage) biscuits and gravy. It was good but the sausage was hardly a substantial sliver. I still happily loaded on carbs before our first hike.
That meatloaf though.
Possibly Related Blog Posts (automatically generated)