My friends at Tabletop Media and their restaurant clients have joined forces with another talented friend, WRAL Out and About Editor Kathy Hanrahan to bring NC State Fair-inspired foods to the Triangle! While NC State Fair as we know it has been canceled, talented chefs debut their version of State Fair-Inspired dishes! Starting today, October 15 to October 25, these menus will be available for us to try!
I wanted to share the State-Fair delights I was lucky enough to preview. Starting first with ko an. If you follow me on Instagram, you'll know I've been a fan of ko an since they've opened.
ko an's State Fair-Inspired Dishes Feature Fancy Corndogs and Teeny "Turkey Legs"
ko an's State Fair menu features house-made hot dogs, with gochu-cup sauce, and NC honey mustard and pickled carrots. Have you ever seen a prettier corndog? I bet you no, no, you haven't.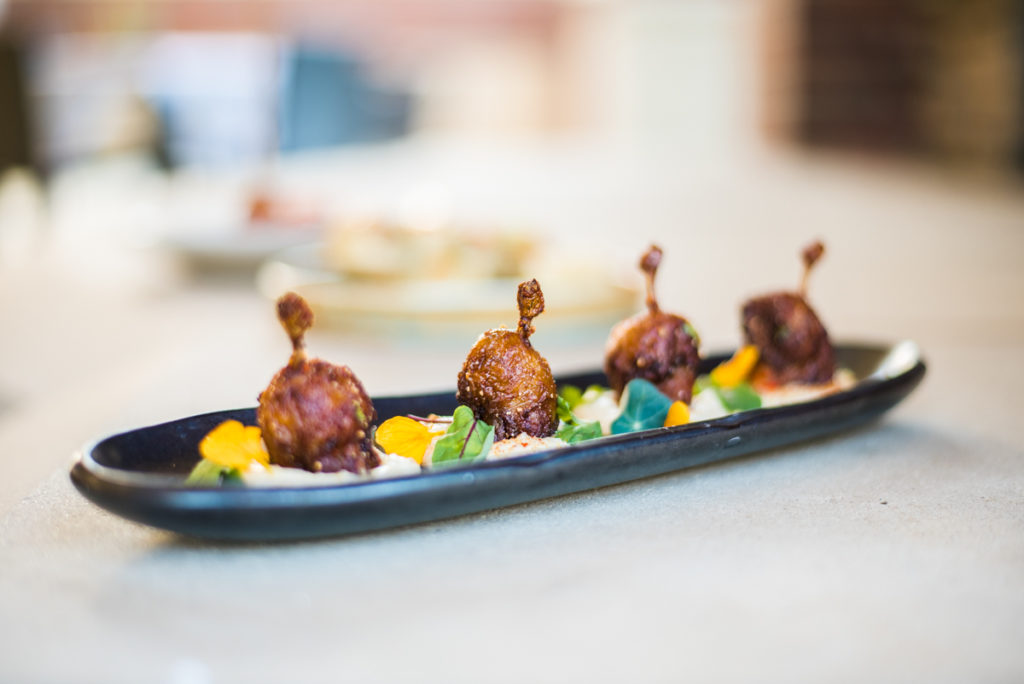 ko an is also debuting quail legs, a cute play on the quintessential state fair turkey leg. They're served with sweet corn grits and Thai chili. I wish they'd put these on their permanent menu, but they are quite labor-intensive to make. Go get you some before they disappear! Again, October 15-October 25.
And what's a fair experience without food on a stick?! Pictured above is the Zipper Roll. Which is a fried tempura roll with crab salad, cucumber, avocado, cream cheese, eel sauce.
And lastly, is fried sweet potato ice cream! I wonder how many marriage proposals the pastry chef in ko an have received. If you've ever had the desserts at ko an, you'd wonder the same!
kō•än
2800 Renaissance Park Pl, Cary, NC 27513
koancary.com
Il Palio's Fair Features will be available all month long!
It was striking to me how the spirit of the State Fair was captured so perfectly on this menu but the dishes still had Il Palio's elegant personality. It's as if you put a tiara on the State Fair! I finished every single bite of Il Palio's fair menu and was immediately saddened to know they'll only have this menu for the month of October.
♡ Poutine all'Amatriciana (house-made fries, Jersey gravy, tomato braised pancetta, mozzarella cheese curds)
♡ Bobby's Pimento Cheese Risotto Balls with red chili marmalade
♡ Sloppy Giuseppe: classic ragu Bolognese, mozzarella, provone, served with fries.
♡ Fried Tiramisu. It took so much for me not to write that in all-caps. Actually, FRIED TIRAMISU!
I'm already leaving Chef Adam Rose so many hints that his Poutine all'Amatriciana should be a staple on their bar menu permanently. I'd love to add it to my special fries article!
Il Palio
1505 E Franklin St, Chapel Hill, NC 27514
ilpalio.com
Coronato Sprinkles State Fair Joy on Castagnole
Coronato is staying true to their Italian roots. They'll be serving Castagnole, a traditional Roman Carnevale food, (sweet fried dough!). They will be rolling them in royal icing and sprinkles. Your inner child will squeal at the sight of these. They come out nice and warm. The perfect ending to dining on their patio! (If you haven't had their pizzas yet, you're missing out.)
Coronato Pizza
101 Two Hills Rd, #140, Carrboro, NC 27510
coronatopizza.com
For more State Fair shenanigans, you can follow along with WRAL Out and About's "Cook Like the Pros" video series to watch these chefs make their fair foods and drinks, with one video launching each day. You can also see where else you can get some State Fair fun!
Many thanks to Tabletop Media for the fun invite!
Share this post on Pinterest
For more blog posts about the Triangle area, check out my Ultimate Guide to the Triangle!
Follow my eating adventures and happenings on Instagram. You can also see what is catching my attention in the food world on Twitter and Facebook. If you're inclined, you can support me and see some behind-the-scenes through Patreon. Oh, and I just launched a Youtube channel!
Possibly Related Blog Posts (automatically generated)