Ozarka® Brand Natural Spring Water sent me a box of Texan products and asked me to share what I love about my home, the great state of Texas. I couldn't pass up on an opportunity to count the ways I love this state.
I once visited a friend during college in Pennsylvania and met some of her college friends from all over the country. When I shared that I was born and raised in Texas, they laughed and said they've noticed Texans were funny. When I inquired why, they said the only students who hung up their state flags were Texan students. This didn't surprise me. There's a high level of pride unmatched by other state citizens. And I'm no exception!
To further demonstrate, here are 7 things I love about the Lone Star State.
1. Tacos

Tacos from Papalote in Austin, Texas
Because this is a food blog, food comes first on this list. I've traveled extensively outside of Texas and our taco game is strong, especially our breakfast tacos! Some of my out of state friends haven't even experienced the breakfast taco! Here, they revere tacos. You never have to go very far to satisfy a craving.
2. Barbecue
We're famous for our smoked meats and barbecue sauce. In fact, you can now buy award-winning Texas barbecue sauce online if you don't live here. Which brings me to 3.
3. Local Products
In the gift box from Ozarka, I was happy to see three Texan brands I already admire. I grew up on Ozarka water and Ozarka water delivery and never knew they source from three Texas springs! The other two brands I was familiar with were Yellowbird Sauce, which is great on tacos and eggs, and Snow's BBQ Sauce, named best barbecue sauce in Texas by Texas Monthly. I broke into both sauces and made breakfast tacos with pork butt. I had my tacos with a bag of flavorful Paqui Tortilla Chips, also gifted in Ozarka's sample box.
Other products included that I'm excited to sample are

Taste Elevated's Sweet & Spicy Mustard Seeds – flavor-packed pearls just tender enough to burst in your mouth
Jelly Queen's Black Garlic Rosemary BBQ Sauce -handmade in small batches using organic ingredients
Cookwell & Company's Queso – cheddar and blue cheeses combined with fire-roasted tomatoes, onions, diced jalapeños, and lime juice
4. City Lights

Austin,Texas
If it's urban attractions you're drawn to, Texas delivers on that too. One of my favorite pastimes is finding pretty cityscapes and photographing them at night. You see, we're not all desert and country roads.
5. Nature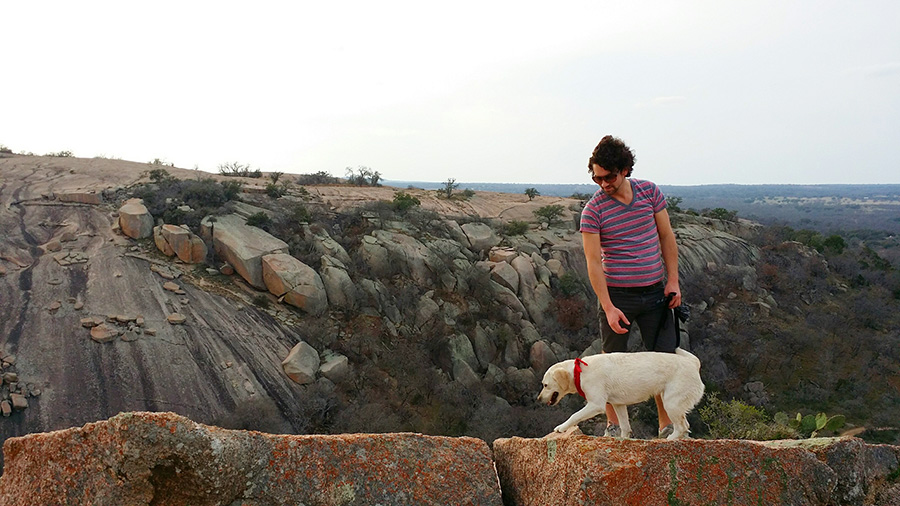 Enchanted Rock, Fredericksburg, Texas
Speaking of desert, people don't think lush when they think Texas but there are plenty of pretty views you can drink with your eyes. We have beaches, deserts, lakes, and mountains. I hope to visit Big Bend National Park next year when I visit Marfa, Texas again. Sugarface and I often hike with our dogs at the Greenbelt in Austin. We have beautiful waterfalls and gorgeous gorges. The amount of exploring the great outdoors in Texas you can do is countless.
6. Events and Art and Museum Culture

James Turrell's Twilight Epiphany Skyspace in Houston, Texas
photo by Thomas Chen

We have amazing yearly events like Austin City Limits, SXSW, the Houston Rodeo, kite festivals in multiple cities, and annual art shows like Via Colori. Some of my favorite musuems are in Texas, including Museum of Fine Arts Houston. They have an exhibit I plan on taking my parents to this weekend.
7. People

With my bestie, a Texas native, at Tout Suite, Houston TX
Last and dearest in my heart is the people of Texas. We're a friendly group. We make eye contact with strangers and say hello. We say "sir" and "ma'am", much to the chagrin to those who think being addressed so formally makes them feel old. We do it not to be antagonistic but because we're raised to be polite. Really though, a good chunk of my dearest friends were born and raised and still reside in Texas. And because of that, Texas will always have my heart.
This post was sponsored by Ozarka® Brand Natural Spring Water and their #FromHereForHere campaign. As always, all opinions are my own.
Possibly Related Blog Posts (automatically generated)