I know it is the trend to post meal plans on Mondays but since I do my grocery shopping and planning on the weekends, I'm going to go against the grain (no pun intended) a bit and post my weekly meal plans on the weekends. Hope these spark a few ideas for your own meal plans!
Saturday
Slow-Cooker Chili Chicken Tacos
I spent the day at Circuit of the Americas watching the Moto GP Races with my little from Big Brothers & Big Sisters of America for our five year anniversary. Dinner was the tacos I planned on making on Friday but last minute plans got in the way. I think hard tacos are so photogenic. Unfortunately, I was so hungry I forgot to snap photos. Instead, I'll show you pictures from the day.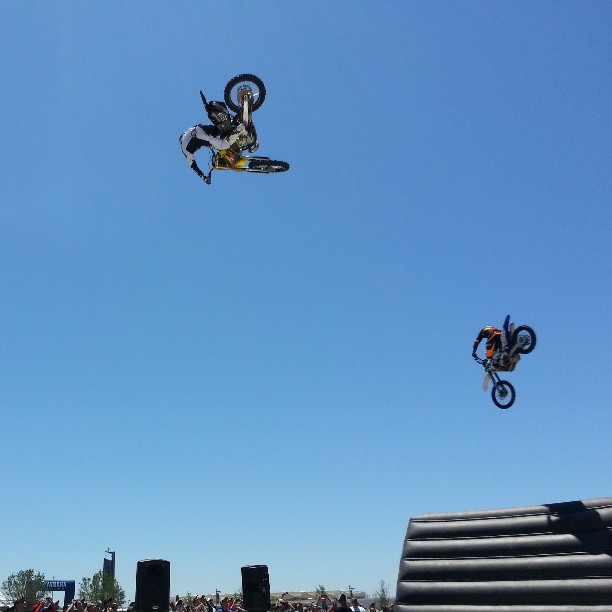 I'm adding these tacos to our list of repeats. The only changes I made to the recipe was double the salsa and I used chicken breast instead of chicken thighs.
Sunday
I make this about every two months!
Monday
Blackened Pangasius, baked potatoes, salad
I keep a jar of this spice mix and make blackened fish usually on days when I have less time to cook. Alan and I won't be home for dinner til almost eight on Monday, so blackened fish it is! I'll stick some baking potatoes in the slow cooker in the morning too.
Pangasius has become my new substitute for both catfish and tilapia.
Tuesday
Ca Farcie (Vietnamese Stuffed Tomatoes), served with rice, salad
This is one of the Vietnamese dishes I grew up on. I don't make it as well as my mom but I love how nostalgic this meal makes me feel.
Wednesday
This new recipe will use up the rest of the ground pork left from the stuffed tomatoes.
Thursday
Ravioli, salad
Friday
A vegetarian meal and a new recipe for me to try. The reviews are favorable!
I hope you're enjoying your weekend!
Possibly Related Blog Posts (automatically generated)