> Girl Eats World" width="800″ class="aligncenter size-full wp-image-1308″>
604 Brazos Street,
Austin, Texas 78701
(512) 391-7162
http://www.driskillgrill.com
Last month I was invited to a media tasting at the Driskill Grill, located in the Driskill Hotel. We started the evening by mingling with some of their marketing representatives, other food writers, and with Chef Troy Knapp in his office. His private space is a hidden alcove like office accessed through the kitchen. It almost feel like a cave office! There we talked about the renovations recently done and some of the history of the famed and alleged to be haunted hotel.
After the cocktail reception, we moved to the restaurant. I've been to the Driskill for events and have had drinks and snacks at their hotel bar but did not realize tucked in the back of the hotel bar area is the fine dining restaurant, Driskill Grill. I love the warm inviting space of the restaurant and noted there were a few private dining areas sectioned off by velvet curtains.
I sat near Ryann, one of the Driskill's PR reps and was so enchanted by her knowledge of not only the Driskill but President Lyndon B. Johnson. Did you know their histories overlapped intimately? It was at the Driskill that Lyndon B. Johnson went on his first date with his future wife, First Lady Claudia (Lady Bird) Taylor. I knew the Driskill had a rich history but this story both intrigued and impressed me! Ryann continued to share her LBJ knowledge and has inspired me to soon revisit the LBJ Library, also located in Austin Texas. The last time I visited I was in the middle school.
Chef Knapp introduced the menu and spoke to his goal to honor classic American cuisine and maintain the sense of refined luxury from past menus. He spoke about the hand picking linens and china to reflect this mission and confirmed what I suspected; the china was a Lenox pattern. (Speaking of history, have I told you that my first job in high school was at a luxury china and silverware store? I spent 2-3 years handling fine china, silverware, and crystals.) He also locally sources what he can and the Driskill has one of the only in-house dry-aging rooms in Austin. The fall menu features dry-aged and hand-cut steaks and other new additions. I'd love to come back and try their Pancetta and Risotto stuffed Lockhart Quail!
We feasted that evening family style and I left feeling drunk with indulgence. I have a renewed admiration for this iconic establishment. If you're still unsure about your holiday itinerary, Driskill Grill is open for dinner both on Christmas Day and New Year's.
Now for the fun part! The food photography I shot from our dinner!
> Girl Eats World" width="800″ size-full="" wp-image-1310″="">
Cambozola Black cheese with sweet onion jam and saba
> Girl Eats World" width="800″>
Confit Crispy Softshell Crawfish with a Potato, Black Eyed Peas, Roasted Corn, and Sweet Butter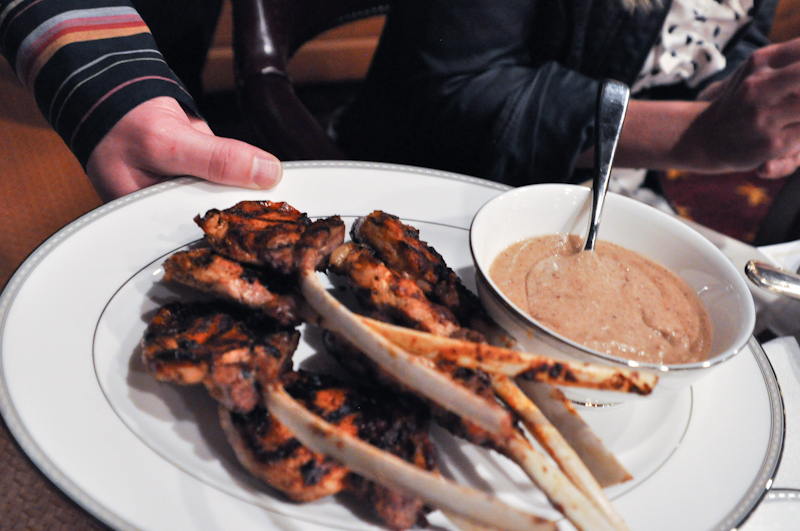 > Girl Eats World" width="800″>
Hill Country Wild Boar Chops with a Apple Cider-Honey Glaze
> Girl Eats World" width="800″>
Roasted Acorn Squash Bisque
> Girl Eats World" width="800″ class="aligncenter size-full wp-image-1314″>
Pear and Pecan Salad
> Girl Eats World" width="800″>
Cornmeal Crusted Gulf Snapper, Braised Collard Greens, Pickled Winter Squash, Spiced Nuts and Sage Browned Butter
> Girl Eats World" width="800″>House Dry Aged Filet Mignon
> Girl Eats World" width="800″>
Chocolate Terrine, Silken Valrhona "Brut" Chocolate Mousseline Butterscotch Tapioca, Chocolate Crumble
> Girl Eats World" width="800″>
Apple Pie-Semi Fredo, Apple Tatin and Walnut Cake, Frozen Crème Fraîche Parfait, Vanilla Bean Ice Cream
> Girl Eats World" height="800″ class="aligncenter size-full wp-image-1315″>
This wine was paired with the steak that my friend South Austin Foodie ordered. I loved it so much I requested some to have with my chocolate dessert.
Possibly Related Blog Posts (automatically generated)