1103 S Shepherd Dr
Houston, TX 77019
Phone:713.521.2239
http://www.backstreetcafe.net/
After Kim and I released our balloons right before the year's end, we had our new Sunday in Houston tradition of eating brunch at a nice place. Instead of Hugo's, we went to Hugo's sister restaurant, Backstreet Cafe. We were pleasantly surprised to see that Backstreet Cafe is a two story house (apparently built in the 30s) renovated into a restaurant. Very quaint for Houston. I'm still exploring Houston, but whereas Austin is abundant in quaint, romantic, little restaurants, Houston seems to have a knack for grander interiors.

We were seated upstairs not far from the fireplace which was housing a real fire.

Our window.

We both ordered the wild berry mimosa which I liked even more than Hugo's guava and watermelon mimosa. I had to consciously not drink it too fast. (I have to REALLY pace myself with alcohol.)
For an appetizer, we shared the roasted pear salad. Neither of us have had a roasted pear and I think both of us have thought about roasting our own pears. After eating this delicious warm pear, more than ever, I'm resolved to roast me a pear now. So warm and moist!

My first roasted pear. It definitely won't be my last.

Stuffed with bleu cheese, dried fruit and nuts, served with greens.

Bistro Breakfast
Pictured above is Kim's order, the Bistro Breakfast, which is comprised of a grilled 4oz tenderloin served with two poached eggs, rosemary potato cake, spinach and tomato hollandaise sauce. I had a taste of her tenderloin and it was magnificent and tender. I have to watch it with steaks because it's usually tough on my lockjaw but this one was perfect.

Spinach Soufflé
I ordered the Spinach Soufflé (pictured above) with mushrooms, poached eggs topped with sabayon and crumbled crisp bacon with a small artichoke salad. I thought I should attempt to eat more greens in the spirit of a new year and new beginnings. I managed half the salad. The soufflé was just as it should be, light and fluffy. The poached eggs on top gave it a heartier bite. I wished they were a tad more generous with the bacon but all in all this dish is a winner.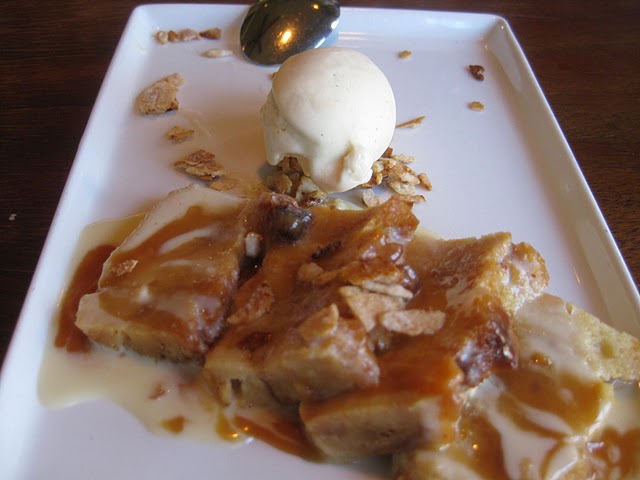 Bread Pudding
Kim and I never skip out on dessert when dining together. It's our rule. The bread pudding was good. It didn't blow me away or anything but it was not a bad tasting bread pudding.
Backstreet Cafe is unique from its brother, Hugo's. The feel, the food. It's a lot quieter and calmer than Hugo's. It's a great place to unwind after a crazy night out whereas Hugo's ambiance is not so good for a hangover. I'm definitely bookmarking this place for future reference. Hugo Ortega, the executive chef, owns Hugo's, Backstreet Cafe, and Prego. I nominate Prego to be our next brunch or dinner stop for Kim and me next I'm in Houston.
I'm loving Houston's eats!
Possibly Related Blog Posts (automatically generated)