EDIT: The Hollow is now closed.
Last month I was one of the lucky guests invited to an intimate six-course dining experience at The Hollow Brasserie in Georgetown, Texas, hosted by Chef Jacob and his wife Lynda. I want to highlight my favorite entrees and also help them spread the word of their good work. Their menu changes often and they also serve brunch. If you live in North Austin or want to spend a day exploring neighboring towns, I suggest checking out The Hollow. Come early so you can explore the neighboring shops that mostly have early closing times.

Scallop escabeche, foraged and pressed verges, melons, sorrel, long bean, almond, olive oil, cucumber, grapefruit, mint, basil, thai chili, preserved lemon
Those Thai chilis had a strong kick to them but all the other flavors provided a cooling and balanced counter to the heat. This was a beautiful and light start to our meal.

Duck mousse creme caramel, pickled cucumber, peaches, mustard, pistou
I noticed as I dine with my friends through the years, pâté is kind of a polarizing food. You either love or hate it. I never tire of pâtés and enjoyed the unique pairings with the pickled cucumber and peaches.

Quail, foie gras, smoked bacon, ancienne, apricots, sautenes, ras al hanout, saffron, wood, cilantro
That wood cream had us murmuring.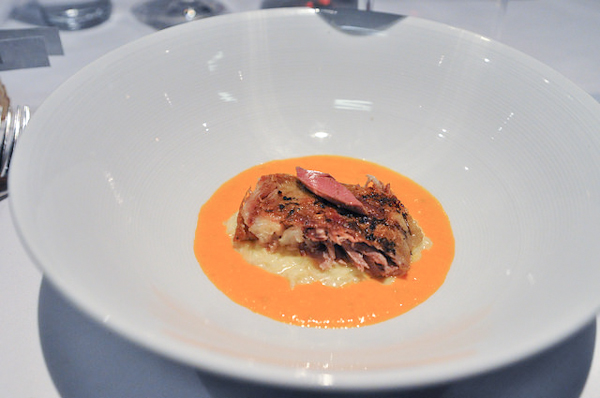 Pressed duck, corn risotto, tomato beurre fondue, duck livers cured in dried porcini
The tomato beurre fondue and risotto gave the duck a comforting bath in which to nestle. I vaguely remember spooning every last drop.
We finished our meal with a decadent and creamy chocolate and blackberry cake. The Hollow left a strong impression with their execution of entrees and their passionate approach to running their restaurant. As our dinner conversation meandered, we discussed how the food community in Georgetown still has a lot of exciting growth ahead of them. The Hollow is the only French influenced brasserie in the area. Nestled in a quaint downtown square and being a restaurant so committed to forage and locally source their ingredients, I can see the importance of having a restaurant like The Hollow in Georgetown.
708 S Austin Ave
Georgetown, TX 78626
(512) 868-3300
Possibly Related Blog Posts (automatically generated)