I'm obsessed with green tea desserts and was determined to hunt them down in Austin. The biggest challenge I faced curating a green tea and matcha dessert list was that matcha desserts hasn't fully caught on yet in Austin. When I go to Houston, green tea desserts are a dime a dozen! While Austin lacks in quantity, we luckily have eight eateries in town who are available for sweet matcha hankerings. Here are my top eight!
1. Matcha Parfait from Komé

Komé Sushi Kitchen
4917 Airport Blvd, Austin, TX 78751
The Matcha Parfait from Komé is my favorite of all the matcha desserts I've had in Austin. The layers of the parfait include matcha panna cotta, rice krispies, red bean paste, rainbow mochi balls, and green tea ice cream. It's a delightful combination of textures and flavors.
2. White Chocolate Matcha Mousse at Peached Tortilla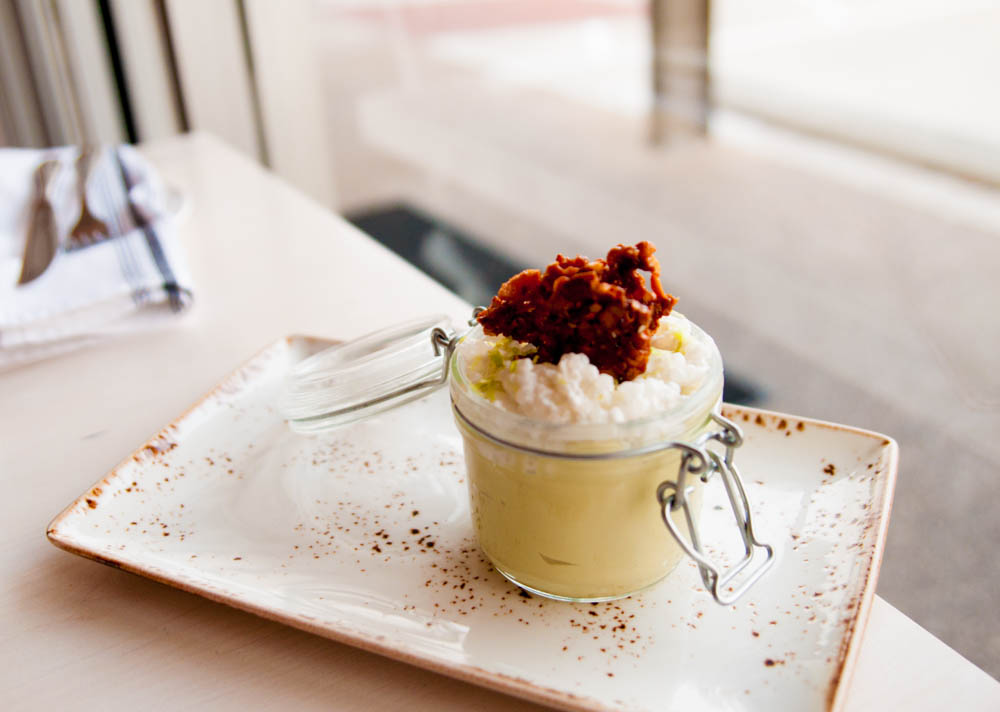 Peached Tortilla
5520 Burnet Rd #100, Austin, TX 78756
I've been a long time fan of Peached Tortilla. When I learned they had a green tea dessert, it was a happy excuse for a return visit. Their white chocolate matcha mousse was such a unique treat. It had more the texture of a pudding instead of a mousse and the tapioca pearls gave it a whimsical touch. We ordered this as our appetizer! I encourage you to start with dessert!
3. Matcha Snow Ice from Snow Monster
Snow Monster
11220 N Lamar Blvd., Ste 275B, Austin, TX 78753
I'm so happy Austin finally has a decent snow ice place! If you haven't had snow ice, I like to tell people to imagine gelato and snow cones had a baby. Their baby's texture is snow ice! Snow Monster has an wide menu of both snow ice flavors and fun toppings you can dress your snow monster. Pictured is the matcha snow ice, with taro pudding, strawberries, strawberry bubbles, and marshmallow.
4. Green Tea Cake from Tous Les Jours

Tous Les Jours
6808 N Lamar Blvd, Austin, TX 78752
Hailing first from South Korea, Tous Les Jours expanded to the states in 2004. It's a fun Korean bakery where you can find individually wrapped fresh pastries to bring home and also order by the slice. Their Green Tea Cake is a pretty little thing. They also have green tea Swiss Rolls and green tea macarons!
5. Thai Ice Cream at Holla Mode

Holla Mode
1800 Barton Springs Road, Austin, TX 78704
Holla Mode, a Thai Ice Cream food trailer on Barton Springs makes your ice cream to order. You can see what goes into it and pick what mixings you'd like. They have a vegan option as well! Pictured is the green tea ice cream with strawberries and mango. Mmm. I know it's January but ice cream weather is practically year round in Austin!
6. Matcha Azuki with a Red Bean Paste at Cream Whiskers

Cream Whiskers
2222 Rio Grande St, Bldg B,Unit 120, Austin, TX 78705
Located near the University of Texas campus, Cream Whiskers is a cozy nook serving cream puff desserts and teas and coffee. You can choose the traditional puff tops or a cookie top. The puffs are made to order and darling!
7. Soft Serve with Matcha Hot Chocolate Sauce at General Tso Boy

General Tso Boy
11501 Rock Rose, Suite 152, Austin, TX 78758
General Tso Boy, a Chinese-American fusion casual spot, has graced Austin with their creative soft serve flavors that go on rotation. Lucky us their Matcha Chocolate Hot Fudge sauce has been available for a while now. I tried their almond cookie soft serve with this amazing sauce. Would order it again and again.
8. Matcha Dusted Brownie at Steeping Room

Steeping Room
multiple locations in Austin
This rich brownie dusted with matcha is such a treat. Known for their healthy eating options and expansive tea menus, Steeping Room also excel at desserts. The brownie above is pictured as part of their Zen Tea Service, which comes with Napa Spring Rolls and edamame, the decadent brownie, and your choice of tea. You can matcha your matcha dusted brownie with a matcha latte!
Over to you now. Did I miss any of your favorites? Tell me in the comments!
Possibly Related Blog Posts (automatically generated)