Last week, I attended TownePlace Suites' Flip the Grill barbecue event in celebration of their milestone 300th location in North Austin. Together with Weber, they hosted a "Chopped" style contest where two of Austin local pitmasters Chef Sonya Cote (of Eden East) and Chef Evan LeRoy (of Leroy and Lewis) engage in friendly competition.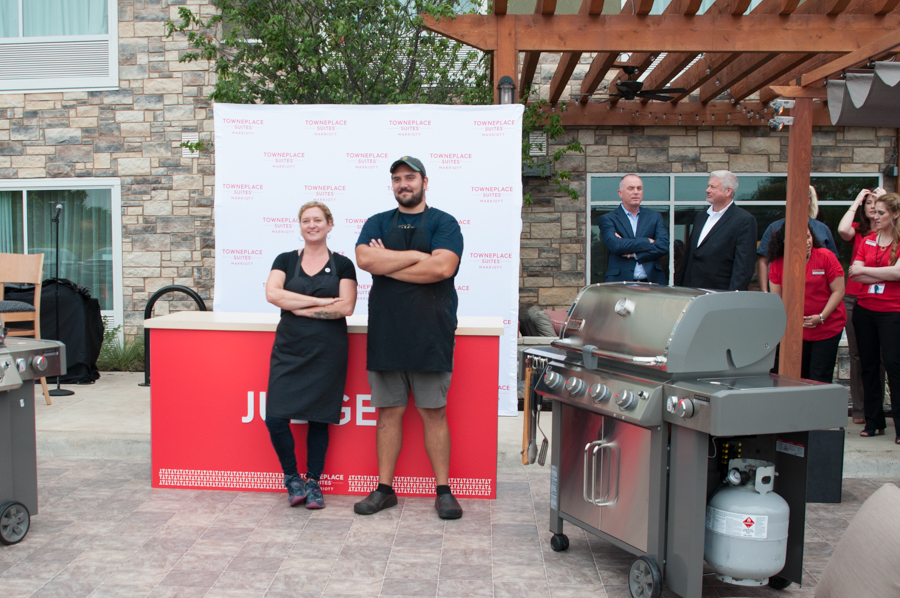 Chef Cote's entry was a seared steak grilled with wood chips and Chef LeRoy went with a daring grilled chicken with ramen noodles and Doritos chip crumbles. In the end, the judges called it a close call and gave the win to Chef Cote.
It was really inspiring watching these two pitmasters work the grill. I am sheepish to admit that I don't know how to work a grill, as evidence by this video.
Lucky for me, the event host and Weber Grills pitmaster, Kevin Cole shared two recipes at the event. They're not only tasty but also quite easy for grill novices like me! Here are the recipes for your enjoyment!
Print Recipe
Grilled Sangria Serves 2-4 people
Ingredients
1 750

ml

bottle of rosé wine

chilled

2

tablespoons

guava nectar or agave syrup

2

peaches

halved, pits removed

8-

ounce

can pineapple rings

optional

8

ounces

strawberries

optional

2

limes

sliced (optional)
Instructions
Preheat the grill for 10-15 minutes on high; brush the grates clean. Then set up your grill for direct medium heat at 425-450 degrees.

Lightly coat fruit with the agave syrup or guave nectar (optional).

Grill fruit directly on the grates.

Pineapple: 2-3 minutes per side

Strawberries: 2 minutes per side

Limes: 2 minutes per side

Peaches 3-4 minutes cut side down

Remove fruit and let cool. Dice pineapple, strawberries, and peaches. Combine all fruit in a pitcher, add the rosé wine and add guava nectar or agave syrup.

Enjoy!
Grilled and Stuffed Avocados
Print Recipe
Grilled and Stuffed Avocados
Grilled Avocados stuffed with Crab and Black Bean Salad
Ingredients
4

avocados

1

tablespoon

olive oil

2

tablespoon

lemon or lime juice
Crab & Jalapeno Stuffing Ingredients
8-

ounce

can crab meat or imitation crab meat

2

jalapeños

1

tablespoon

lemon or lime

1/2

teaspoon

salt

1/2

teaspoon

pepper

teaspoon

smoked paprika
Black Bean Salad Stuffing Ingredients
16-

ounce

can black beans

10-

ounce

can sweet corn

16

ounces

premade pico de gallo

1

tablespoon

salt

1

teaspoon

pepper
Instructions
Instructions for Crab + Jalapeño Stuffing
Grill jalapeño, remove from grill and chop into pieces.

Combine crabmeat, jalapeños, salt, peper, paprika, and lemon/lime juice.

Fill the grilled avocados

Instructions for Black-Bean Salad Stuffing

Drain black beans and corn.

Combine black beans, corn, pico de gallo, lime juice, salt and pepper.

Fill the grilled avocados

Enjoy!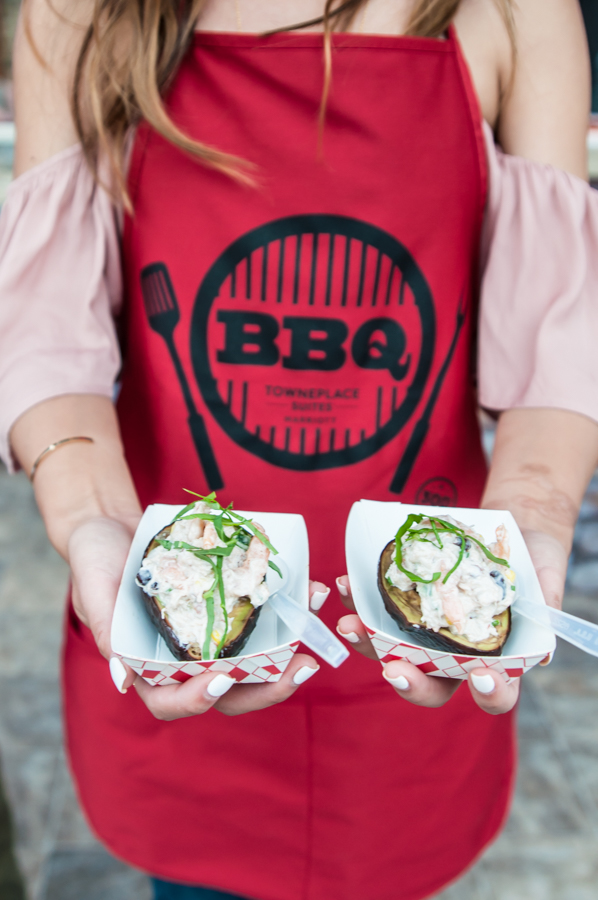 Follow my eating adventures and happenings on Instagram. You can also see what is catching my attention in the food world on Twitter and Facebook. Oh, and I just launched a Youtube channel!
Possibly Related Blog Posts (automatically generated)