Update 2/16/17: Liberty Kitchen in Austin has since closed since the writing of this post. They are still open in Houston. To see more Austin content, click here.
Last week I had the pleasure of dining with my friend South Austin Foodie at Liberty Kitchen at a media tasting.
I'm a big fan of light. Natural light, starlight, twinkle light. I want to go back to Liberty Kitchen at night to see their pretty ceiling lights with their star motif. The words on their ceiling say, "The stars at night, are big and bright, deep in the heart of Texas." Which made me think of my friend who used to have glow in the dark stars taped to his sunroof. I imagined him taking girls out and asking if they'd like to go stargazing and when the unsuspecting hopeful lasses tentatively say yes, he would pull back the sunroof cover to reveal these illuminated green plastic stars. At least, that's how I'd make a move with that car!
In fact, you have my permission to steal this sophisticated version: you suggest to your date that you two enjoy a night of stargazing and good food and just take them to Liberty Kitchen. Eh? You're welcome from your date coach.
I was charmed to see Houston's BRC (Big Red Cock) listed as a sister restaurant to Liberty Kitchen and also to learn that Liberty Kitchen hails from Houston too, my beloved childhood town. I often find myself defending Houston while living in Austin. Sure, Houston isn't as pretty, but the food in Houston is stellar! The cocktails were not only beautiful catching that light, but also quite tasty. I was a bad blogger and didn't write down what cocktail I had but I enjoyed my drink. I let the server choose for me.

These grilled oysters were perfect. I consumed all sorts of oysters that night. Grilled, raw, fried, I loved them all.
Gulf Shrimp, Crab & Fried Oyster Campechana; cucumber, olive, avocado, sweet tomato sauce, sweet herbs; $17
Ah, that fried oyster! This compechana was a beautiful start to our meal.
Look, Austin has strong queso game. My long-time favorite in town is Torchy's but when your town is this great at queso, it's always a good call to order queso. So get the queso we did. No regrets, y'all.
Gorilla-Style Street Fish Tacos; grilled Gulf fish, cilantro slaw, spicy crema, avocado,
grilled jalapeno, queso, drunk beans, salad, $19.99
Speaking of, I poured queso on my fish taco. We dined on a Tuesday and Liberty Kitchen does Taco Tuesdays as a special. They serve whatever fish is fresh and for us that meant drum fish.
Deviled Egg Trial; spicy-pickled juice yolk topped with 1) hot smoked salmon 2) fried oyster 3) pimento cheese & crab 4) spicy fried chicken n' sauce with side bacon jam; $12.75
I'm that person at the party who gobbles down all the deviled eggs when other guests aren't looking. In other words, these were up my alley, but I just realized I haven't even told you about the bacon jam! Liberty Kitchen now officially makes my favorite bacon jam. I loved it so much, South Austin Foodie and I brought a whole jar home to split. Yes, you can buy their jam by the jar! It's a great deal. Do it for you. Do it for your loves.
Heisenburg-er; ridiculous burger; $17/$24.
Behold the Heisenburg-er. Deviled eggs, turkey, bacon, bacon jam, avocado, jalapeños, did I already mention the bacon jam? Also what you see is the half order. HALF!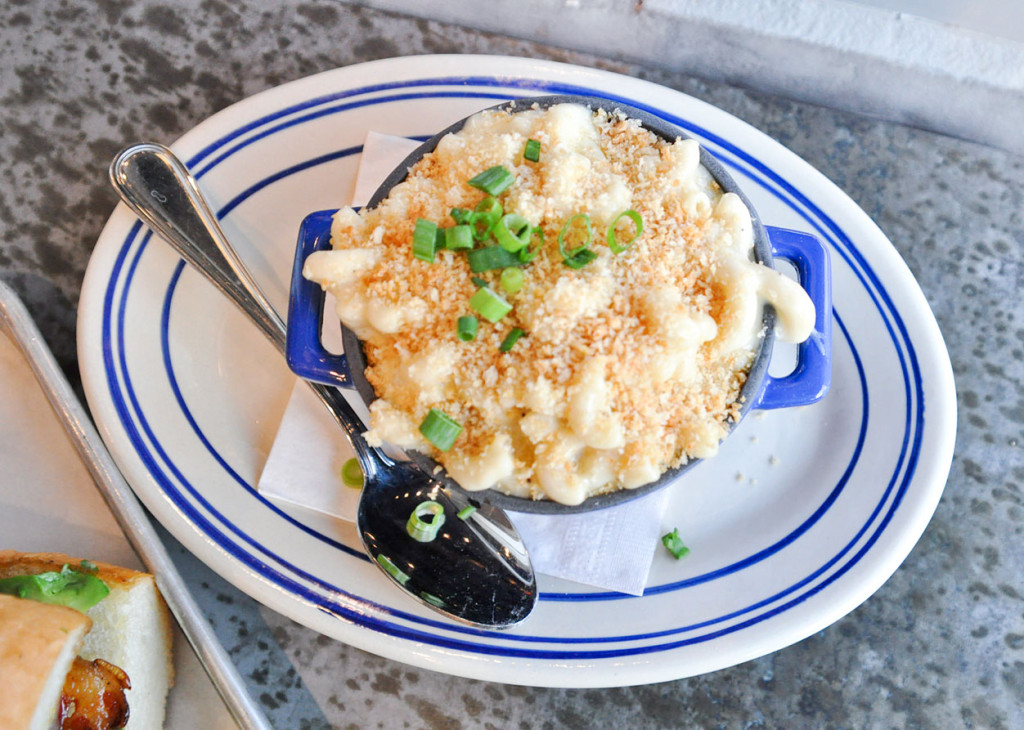 Classic Mac and Cheese, $10
I love asking people what food they gravitate to when they're feeling blue. I alternate between Asian noodles, mashed potatoes, and mac and cheese.
For dessert we had the bread pudding and one of the cake shakes, ours was the red velvet cake with vanilla. By this point I didn't think I could take more than one bite of each but to my delight and dismay, I could not stop eating that bread pudding.
Well there you have it. My first impression of Liberty Kitchen was a feast. And there's still so much more to eat. The menu is exhaustive guys. Next time I'm curious about the Fried Oyster & Spam Musubi and the Shanghai Sweet & Chile Fried Whole Lobster. Because hedonism.
So next date night? Take your better half to Liberty Kitchen, where the menu is extensive, seafood is fresh, and stars are bright.
Question: What do you eat when you're having the worst day?
Possibly Related Blog Posts (automatically generated)