My name is Linda and I'm caffeine-dependent. Since moving to the Research Triangle area of North Carolina, I decided to use coffee as my way to get to know the area and the people. At first, visiting coffee shops around Raleigh/Durham was just a means to leave the apartment and not spiral deeper into my homesickness, and then it quickly evolved into a fun way to get to know the area and the locals. What resulted from my tour was a list of coffee spots to satisfy all coffee whims.
Bread & Butter
Bread & Butter is a cozy coffee shop and bakery in Chapel Hill, just minutes from the UNC campus. They have mismatched worn furniture, a greenhouse style window, and the best brioche. I hear their brioche cinnamon buns are worth a try too. With reliable wifi, quiet atmosphere, and plenty of table space, Bread & Butter is a wonderful place to hunker down with your projects.
503 W Rosemary St, Chapel Hill, NC 27516
chapelhillbakery.com
Caffe Driade
I had Caffe Driade on my list of places to check out, unaware that I drive by it almost daily! Caffe Driade is tucked into a wooded oasis for you to sip, think, and feel. There are also wine and beer and pastries you can purchase. It's a perfect date spot under the stars at night and a great pensive space during the day. Pro tip: Their affogato is the biggest affogato I've ever had. It's perfect for sharing.
1215 E Franklin St, Chapel Hill, NC 27514
caffedriade.com
Cocoa Cinnamon
Multiple Locations
cocoacinnamon.com
Cocoa Cinnamon has three unique locations and on my second day as a North Carolina resident, I went to two of them! The latest location has sugary churros and drinking chocolate. The churros come in unique flavors like orange and cardamon. I still need to try their churro ice cream sandwich!
Perennial
Perennial is a tiny and beautiful coffee shop on Franklin St. in Chapel Hill. They have limited seating and is an awesome place to work if you're lucky to snag a seat. The baristas are so sweet, and Perennial carries pastries from Weaver St. Market.
Perrenial
403 W Franklin St, Chapel Hill, NC 27516
perennial.cafe
Parker & Otis
I'm creating a list of places to take my family and friends when they come and visit. Parker & Otis is on this list! Great spot for brunch, lunch, and breakfast. There's a gift shop that I could spend hours in, perusing their stationary, journals, and knick-knacks! I just know a few of my girlfriends back home would adore this space.
Tip for your first time: there's a counter to order your food and a separate coffee bar counter.
112 S Duke St, Durham, NC 27701
parkerandotis.com
Morning Times
When I polled the locals about what coffee shops are must-visits in Raleigh, every single one of them told me that Morning Times is a must. It's adjacent to and associated with Raleigh Times, which is also a popular eatery in Raleigh. They have an iconic sign at their front doors that spell out COFEE in pretty pink neon and their maple lattes provide a cozy nod to the fall season.
10 E Hargett St, Raleigh, NC 27601
morningtimes-raleigh.com
Monuts
I only sampled their donuts and lattes here and they were a delight! I hear that on the weekends there are long lines and crowds for weekend brunch. So if you're looking for just an afternoon recharge, I recommend going on a weekday as I did! I especially liked their chocolate coconut cake donut which funnily wasn't what I would have ordered. I let the cashier pick her favorite donut to add to my loot. So glad I did!
Monuts
1002 9th St, Durham, NC 27705
monutsdonuts.com
Guglhupf
A beloved cafe, bakery, and restaurant in Durham, Guglhupf is not only fun to try to pronounce but also fun to visit. Guglhupf is popular for brunch and their dessert game is a strong one. Their leafy patio makes me happy! Remember to stop by their attached bakeshop and pick up some croissants to take home! I enjoyed their chicken salad and look forward to going there for brunch!
Guglhupf
2706 Durham-Chapel Hill Blvd, Durham, NC 27707
guglhupf.com
Namu
What sets Namu apart from the rest of the coffee shops on this list is that they also serve Korean food alongside their lattes! Read more about my solo date to Namu here.
Namu
5420 Durham-Chapel Hill Blvd, Durham, NC 27707
La Farm Bakery
If you love bread and pastries, I'm willing to bet you'll love La Farm Bakery. I could smell the buttery bread and pastries from their parking lot! I took myself on a lunch date there and only wanted to grab a coconut latte and croque madame, but the angelic server presented me a white chocolate baguette sample. After tasting it, I instantly added one to my order to take home with me. Usually white chocolate anything makes me cranky. (CALL IT WHAT IT IS, "NOT CHOCOLATE".) But as soon as I tasted their white chocolate baguette I was hit with both joy and sadness. Joy to have experienced such heavenly delight, and sadness that I couldn't make a life of eating their white chocolate baguettes.
La Farm Bakery
248 NW Cary Pkwy, Cary, NC 27513
lafarmbakery.com
Bean Traders
Bean Traders make their pies in house and they have delicious and interesting coffee drinks to try. I had the habanero dark chocolate cold brew coffee to wash down my chocolate pie. This place was buzzing with happy people and activity.
Bean Traders
105 W North Carolina 54 #249, Durham, NC 27713
beantraderscoffee.com
Sola
Sola will always be special to me. It was my first coffee shop experienced when I came to the area a few months before moving here. I have a friend named Cassie I met online as a teen who turned into a penpal. We met each other for the first time at Sola. I'm so fortunate that seventeen years after meeting her online, we're now just thirty minutes away from each other! Sola has a full menu and serves beer too! I quite liked their prosciutto sandwiches.
7705 Lead Mine Rd, Raleigh, NC 27615
solacoffee.com
Blend & Co
Tucked in the charming downtown of Burlington, North Carolina is Blend & Co. This airy space is Instagram friendly. And you can order smoothie bowls alongside your coffee. I'm going to be bold and say it. Smoothie bowls are better than smoothies! Blend & Co. also has a very cute mobile coffee trailer.
Blend & Co.
127 E Front St, Burlington, NC 27215
theblendandco.com
Jubala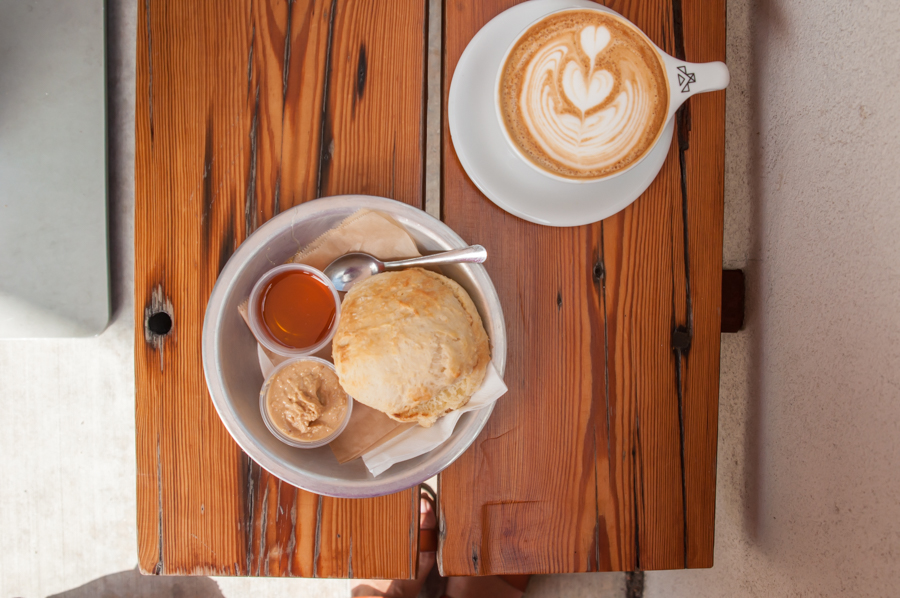 What makes Jubalya unique is their biscuits! What a pleasant and pillowy snack to have with your lattes. I got the peanut butter and honey biscuit. Their biscuits almost had the texture of a scone.
So that concludes my recent caffeinated tour of the Research Triangle area of North Carolina. Many thanks to these gems for giving me beautiful spaces to meet new friends, write in my journal, and crank out work.
Multiple locations
jubalacoffee.com
Now back to you! Did I miss any of your favorites? Please leave a comment and enlighten me!
Follow my eating adventures and happenings on Instagram. You can also see what is catching my attention in the food world on Twitter and Facebook.
Possibly Related Blog Posts (automatically generated)