There are many perks to being best friends with a worldly photographer who is passionate about food. Thomas not only has been coaching me in my photography skills for almost two years now, but with all the traveling and eating he does, he ends up being my food tour guide around the country. We've eaten together for over ten years and have similar palates so I never second guess his recommendations. He's been my gastronomical guide in Houston, Los Angeles, New York, and now Chicago. He traveled to Chicago many times a year for one of his jobs and we dedicated our entire eating plan to his recommendations.
Portillo's
http://www.portillos.com
Multiple locations with varying hours
I couldn't leave Chicago without eating their hot dogs and Italian beef sandwiches. You can get both at Portillo's where their cake shakes are also reputable. Chicago dog slingers notoriously shun ketchup. (Don't tell anyone I dipped an end of my hot dog in ketchup.) The slices of Italian beef were so thin and moist, I was so happy I only ordered one as I could easily scarf down two and then be incapacitated.
Lou Malnati's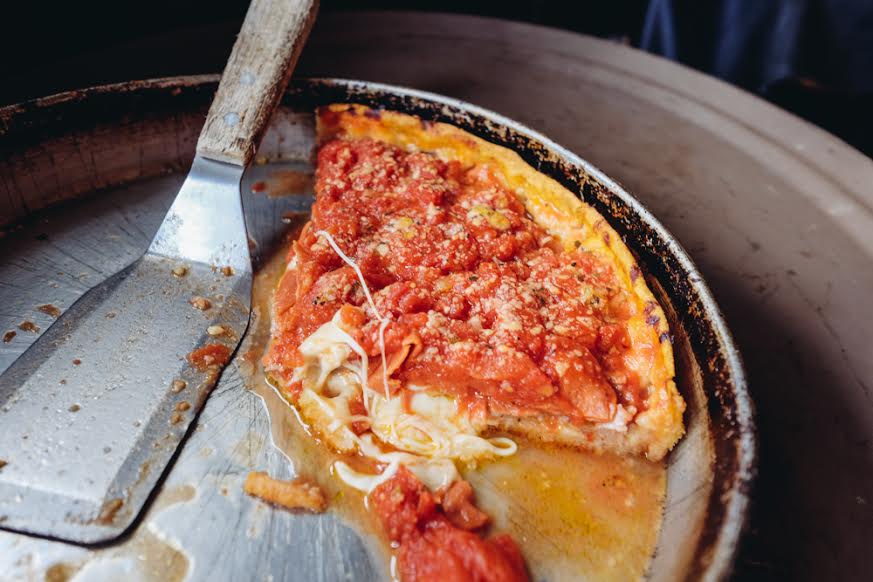 Photo by Thomas
http://www.loumalnatis.com
Multiple locations with varying hours
Another must-eat in Chicago is deep-dish pizza. A well-known deep-dish pizza establishment in Chicago is Lou Malnati. This is where we had a family style dinner with our friends in Chicago before heading out to Taylor Swift's concert. (See how I casually worked in the reason why I went to Chicago?) Our table of seven overstuffed ourselves on two pizzas. They were so good it hard to exert self-control. I was glad I opted for a forgiving dress to wear to the concert.
Garrett's
http://www.garrettpopcorn.com
Multiple locations with varying hours
Every time my family or workplaces received the big tins of popcorn that had the butter, caramel, and cheese popcorns, I would make mix bowls of the cheese and caramel popcorns. Onlookers would narrow their eyes at me for doing so, and I always felt a little odd for it. Thank you Garrett for validating me! I didn't know "mix" for them meant the same thing! At Garrett's you can buy either caramel popcorn, butter popcorn, cheddar popcorn, or mixed which translates to a mix of cheddar and caramel. I've always enjoyed my sweet with a little savory so I highly recommend just getting the mix. I bought a bag of the cheddar and my girlfriend bought a bag of caramel and we mixed it. (She has a bigger sweet tooth than I do).
They make their popcorn fresh daily and it's best to consume right away as it gets stale by the next day. Though the caramel lasts longer because of the sugar coating! Be wary of subsequent buttery cheese fingers when consuming.
If you miss out, there's a Garrett's at the O'Hare Airport and you can also order online. I'm assuming they seal it better to ship if you want to buy online.
I forgot to take a photo of my popcorn and was tempted to just embed this photo.
Xoco
449 North Clark Street, Chicago, IL 60654
http://rickbayless.com/restaurants/xoco/
Open: Tuesday–Thursday 8a – 9p, Friday & Saturday 8a – 10p
Closed: Sunday & Monday
This Rick Bayless restaurant was our first stop during our short weekend trip to Chicago and it set the tone for a weekend of amazing eating. Known for their sandwiches, we all ordered sandwiches. I ordered the Pepito (braised short rib, caramelized onion, artisan Jack cheese, black beans, pickled jalapeños, added avocado; $12, $13 with added avocado) and split their famous Ahogada (golden pork carnitas, black beans, tomato-arbol chile broth, pickled onions; $11) with my roommate. If you have an eating buddy, I recommend ordering two different sandwiches as they come cut, making it easy to share. If it's just you, get the Ahogada, the dipping broth is amazing. I also sampled their Baja Chicken sandwich, another solid choice.
For dessert we tried their renown Mexican drinking hot chocolate, so thick it's like a chocolate sauce, perfect for dipping the churros. We also split the flan which was topped with spicy bacon caramel popcorn. Not one bite of our meal was mediocre.
If you missed out on fitting Xoco into your itinerary, you can also get some of the same sandwiches at Tortas Frontera at O'Hare airport.
Bongo Room

http://thebongoroom.com
Multiple locations with varying hours
For brunch, try Bongo Room. I split a bastardized version of the Vegetarian Croissant Sandwich (we added bacon) and the White Chocolate Pretzel Pancakes. Those pancakes arrived doused in a white chocolate sauce and the pretzels were in the pancake batter giving it a nice salty crunch. I'm typically not a pancake kind of person but kept coming back to the pancakes, strategically aiming for bites with the pretzel.
Note the location we chose (1152 S Wabash Ave) is the only location that does not serve alcohol.
Avec
615 W Randolph St, Chicago, IL 60661
http://avecrestaurant.com
Lunch: Monday – Friday 11:30a-2p
Dinner: Sunday-Thursday 3:30p-12a; Friday and Saturday 3:30p-1a
Sunday brunch: 10am-2pm
Back in Texas and on the way home from the airport, I asked the girls I traveled with what their favorite bite was. They both said the chorizo stuffed dates wrapped in bacon ($14) from Avec. My favorite bite was also from Avec, the squid ink pasta with fennel, dill, and sardines ($18). I KNOW. Talk about range. We also ate the burrata pizza with charred eggplant, cherry tomato confit, basil and calabrian chili honey ($18) and the butcher's steak ($18). A couple of notes: they do not take reservations and you can easily wait two hours. Some people have strong opinions about long waits but I am rarely turned off by them so long as I'm in good company.
Purple Pig
Photo by Thomas
500 North Michigan Avenue, Chicago, IL 60611
http://thepurplepigchicago.com
Open: Sunday – Thursday 11:30a-12a Friday & Saturday 11:30a-2a
This was the only restaurant we had on our list but didn't make. We underestimated the amount of time we needed to eat at Avec and missed our planned second dinner at Purple Pig. I couldn't help but include this place in this round-up though because look at that photo of the turkey leg. I will most definitely be back to Chicago and next time I'll make it here!
Been to Chicago? What would you add to this list?
Follow my eating adventures and happenings on Instagram. You can also see what is catching my attention in the food world on Twitter and Facebook. I also recently launched a Patreon to share some behind the scenes of running a food and travel blog!
Possibly Related Blog Posts (automatically generated)