EDIT: For those of you not in the area, Research Triangle Area includes the Raleigh, Durham, and Chapel Hill. They make up a geographic triangle in North Carolina and have a big research presence
When I was younger, I thought sandwiches were boring. Bread with just stuff in the middle was how I looked at it. Thankfully, with age, I wised up. Sandwiches can be fantastic with appetizing filling! And I'm paying them more mind and am basking in our honeymoon phase. I have been exploring the world of sandwiches in the Research Triangle Area of North Carolina and am happy to share with you a list of winning sandwiches.
7 Restaurants in the Research Triangle Area to Get Your Sandwich Fix
1. Na' Mean
4823 Meadow Dr. Suite 108, Durham, NC 27713
http://www.kokyubbq.com/nmean/
Baht Mi; BBQ short rib, honey peanut sauce, chilies,
cucumber, mint, cilantro, pickled vegetables, KoKyu
chili sauce, crushed peanuts; $12
Upon pulling up to Na' Mean and seeing that it's tucked inside a quiet strip mall, I'm already smiling to myself. You may remember how I feel about strip mall gems. Just glancing at their creative menu made me happy. There were banh mi inspired sandwiches the first half of their menu, and noodle and salad bowls the second half. When I took my first bite of the "Baht Mi" sandwich, which has BBQ short rib, honey peanut sauce, chilies, cucumber, mint, pickled vegetables, and their housemade chili sauce, I was converted to a loyal fan. I am excited to work my way through the rest of the menu.
2. Beasley's Chicken + Honey  
237 S Wilmington St, Raleigh, NC 27601
http://ac-restaurants.com/beasleys/
Nashville Hot Chicken Sandwich; buttermilk bread
with house made pickles, iceberg lettuce
and buttermilk herb dressing; $8.50

(In the blurred background) Classic Chicken Sandwich;
iceberg lettuce, special sauce, potato bun; $6.50
Beasley's Chicken + Honey was my first experience of an Ashley Christensen restaurant and though I admired her from afar, eating at Beasley's endeared me to her work even more. I had been scouting the area for Nashville Style Hot CHicken and was almost certain that it doesn't exist in the area when I got wind of Beasley's Chicken + Honey having it on their menu. That spicy sandwich had me sweating in seconds, and yet, I'd go back for more. It hurt so dang good. I also tried their fried chicken sandwich, and what it lacked in spicy kick, it made up in uncomplicated pleasure. Mmm, that perfect crispy batter on the outside and the juicy chicken on the inside!
3. Raleigh Times
14 E Hargett St, Raleigh, NC 27601
http://raleightimesbar.com/
Bangin' Shrimp Po' Boy; seasoned fried shrimp, lettuce,
Vietnamese slaw, sesame oil,
and a spicy yum-yum sauce; $12.95

Far East Reuben; beer-braised corned beef,
collard green kimchi, swiss cheese,
special sauce on grilled rye; $11.95
One of my Austin friends, Patrick, would ask me if I made it to Raleigh Times anytime we caught up since I moved to the area. He kept mentioning their Reuben. I finally heeded his advice and tried their Reuben (blurred in the background of the photo above), and their shrimp po'boy. And I loved both their sandwiches so much that I'm certain I'll only order these two sandwiches when I return. Maybe future dining companions will broaden my experience by ordering other things that I can steal bites of, but I'm smitten with these two sandwiches. The Reuben had kimchi collard greens. I've yet to have a Reuben with collard greens, much less kimchi collard greens. It worked pretty well! The shrimp po'boy was just as delightful with their Vietnamese purple slaw. I highly recommend both sandwiches!
4. Merritt's Grill
1009 S Columbia St, Chapel Hill, NC 27515
https://www.merrittsblt.com/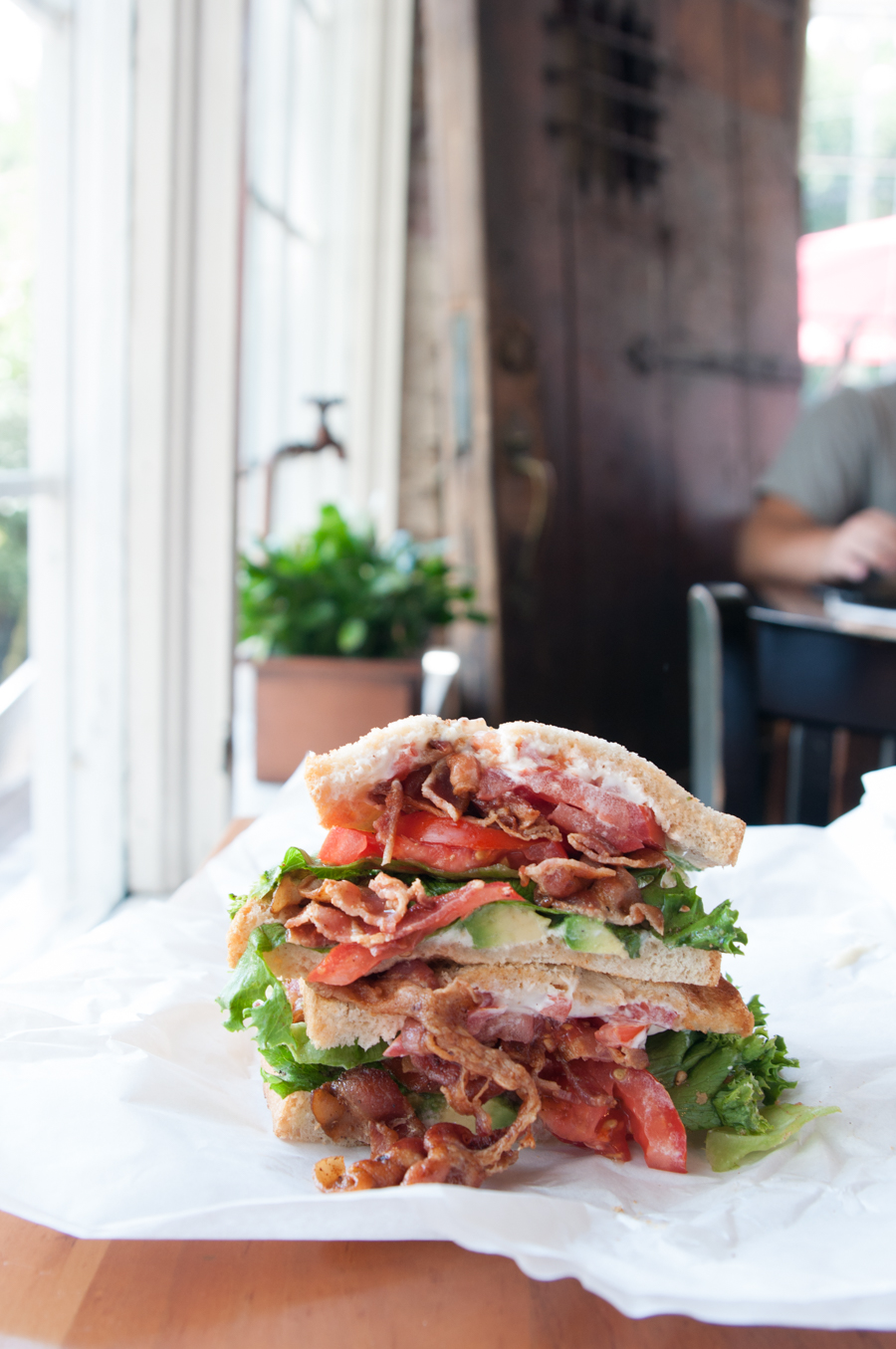 Merritt's Single BLT; toasted bread of your choice,
bacon, bacon, bacon, lettuce, tomato, mayo, salt,
pepper, and bacon; $7.15 / Extra $1.31 for avocado (worth it!)
I like when a restaurant or business does one thing so well, they can operate their business with just that one thing if they wanted to! Such is the case with Merritt's Grill and their BLT. They have other things on their menu besides the BLT but really, just get the BLT. I add avocado to mine and have to refrain from humming happily as I eat this famed BLT sandwich.
5. Sunrise Biscuit Kitchen
1305 E Franklin St, Chapel Hill, NC 27514
http://www.sunrisebiscuits.com/
When in the South, you must partake in the chicken biscuit sandwich. And if you're in the Research Triangle Area, the place for chicken biscuit sandwiches is an unassuming drive-thru establishment opened only for breakfast and lunch, called Sunrise Biscuit Kitchen. I've learned this humble establishment has become somewhat of an institution for the chicken biscuit sandwich. I decided to order my chicken biscuit with added pimento cheese, to give it another layer of Southern charm, and because I'm a glutton, I ordered a hash brown and slipped it into my sandwich. Um, if that's too much for you to handle, just the chicken biscuit will probably make you happy too!
6. William Gourmet Kitchen
2114 N Carolina 54, Durham, NC 27713
https://www.williamsgk.com/
Buffalo Chicken Sandwich; lightly breaded fried chicken tossed
in honey buffalo sauce with lettuce,
tomatoes, red onions & dill pickles
on a toasted Brioche bun; $8.29
And because I'm not done talking about fried chicken sandwiches, also pay a visit to William Gourmet Kitchen. Another unassuming establishment that specializes in down-home diner cooking. I quite enjoyed this Buffalo Chicken Sandwich, with the option to add either blue cheese or ranch dressing. No fancy hoopla to it, just extraordinary in its ordinariness
7. Spanky's
101 E Franklin St, Chapel Hill, NC 27514
http://www.spankysrestaurant.com/
Spanky's ALT; arugula, tomato, avocado
and house-pimento cheese on wheat; $9.5 /Add bacon $11.5
Spanky's is a college sports bar on Franklin street. It's fun to go to admire their wall of caricatures of celebrities and esteemed public figures who have graduated from UNC. It's a fun game to play with your dining buddy to see if you recognize anyone. But back to the topic at hand, sandwiches!! Their ALT with a side of their sweet potato tots is my standard order. Served with arugula and a layer of gooey pimento cheese, this sandwich is so good, you don't even need to add bacon. But that's your prerogative!
Over to you now! Did I miss your favorite sandwich? If you're not from the RDU area, please comment and tell me about your favorite sandwich.
Follow my eating adventures and happenings on Instagram. You can also see what is catching my attention in the food world on Twitter and Facebook.
Possibly Related Blog Posts (automatically generated)