Two nights ago, I checked my calendar to see when the last time I cooked something was. It was August 31. Almost an entire month of no dabbling in the kitchen. Inspired by my embarrassing inactivity and my New Year's Resolution of trying 20 new recipes, I attempted my 16th new recipe of the year, Giada's Bucatini All' Amatriciana with Spicy Smoked Mozzarella Meatballs. I started late in the evening and didn't finish cooking til 12:30am Monday night. I made enough to pack for lunches the rest of the week. The sauce is hearty and tasty with just the right amount of salt from just the cheese and pancetta, (I omitted the salt in this recipe since the ingredients on their own were a bit salty) but the real superstars of this meal are the MEATBALLS. Succulent, moist, with a decadent filling of melted smoked mozzarella. I can eat the meatballs happily on their own but then to mix it with pasta and a hearty tomato pancetta Romano sauce? Heaven. I am definitely putting this in my favorite's file.
Recipe adapted from Giada's recipe. I only made three changes. I substituted linguine for bucatini and turkey for veal. I only did this after trying three groceries stores for both ingredients. Thirdly, I omitted the salt. Below is a reposting of the recipe with my 2 substitutes. Kind of my back up copy if Foodnetwork ever deletes this recipe. I do not ever want to lose this!
Ingredients

All'Amatriciana Sauce:
2 tablespoons olive oil
6 ounces pancetta, diced
1 yellow onion, finely chopped
2 garlic cloves, minced
Pinch crushed red pepper flakes
1 (14-ounce) can crushed tomatoes
1/2 teaspoon kosher salt, plus more for seasoning
1/2 teaspoon freshly ground black pepper, plus more for seasoning
1/2 cup grated Pecorino Romano

Meatballs:
1 small (6-ounce) onion, grated
1/2 cup chopped fresh flat-leaf parsley, plus 1/4 cup
2/3 cup grated Parmesan cheese, plus 1/4 cup
1/3 cup Italian-style bread crumbs
1 large egg
2 tablespoons ketchup
3 garlic cloves, minced
1/4 teaspoon crushed red pepper flakes
1 teaspoon kosher salt, plus more for seasoning
1/2 teaspoon freshly ground black pepper, plus more for seasoning
8 ounces ground beef
8 ounces ground veal turkey
2 ounces smoked mozzarella cheese, cut into 16 (1/2-inch) cubes

1 pound bucatini or other long pasta

Directions

For the sauce: In a large heavy skillet, heat the oil over medium heat. Add the pancetta and cook, stirring constantly, until golden brown, about 5 to 7 minutes. Using a slotted spoon, remove the pancetta and reserve. Add the onion and cook for 5 minutes. Stir in the garlic and red pepper flakes and cook until fragrant, about 30 seconds. Add the tomatoes, 1/2 teaspoon salt, 1/2 teaspoon black pepper, and the cooked pancetta. Simmer, uncovered, over medium-low heat until the sauce thickens, about 15 minutes. Stir in the cheese and season with salt and pepper, to taste.

For the meatballs: Position an oven rack in the lower 1/3 of the oven. Preheat the oven to 400 degrees F. Line a baking sheet with parchment paper.

In a large bowl, combine the onion, 1/2 cup parsley, 2/3 cup Parmesan, bread crumbs, egg, ketchup, garlic, red pepper flakes, 1 teaspoon salt, and 1/2 teaspoon pepper. Add the beef and veal. Using your hands, combine all ingredients gently but thoroughly. Shape the meat mixture into 16 (1 1/2-inch-diameter) meatballs and place on the prepared baking sheet. Make a hole in the center of each meatball and place a cube of mozzarella inside. Reform the meatball so that the mozzarella is completely covered with the meat mixture. Bake the meatballs for 15 minutes until cooked through.

Bring a large pot of salted water to a boil over high heat. Add the pasta and cook until tender but still firm to the bite, stirring occasionally, about 8 to 10 minutes. Drain and place in a large serving bowl. Add the meatballs and sauce. Toss gently and season with salt and pepper, to taste. Sprinkle with the remaining parsley and Parmesan.
Overall it's an easy recipe but it is time consuming. What with the grating and chopping and shaping and reshaping of meatballs. Do as I did and pour yourself a glass or two of Moscato and sip as you cook. I promise you, this recipe is worth it.
Pictures of the Process
Stuffing the Meatballs
Reshaping the Meatballs
Admiring Cooked Meatballs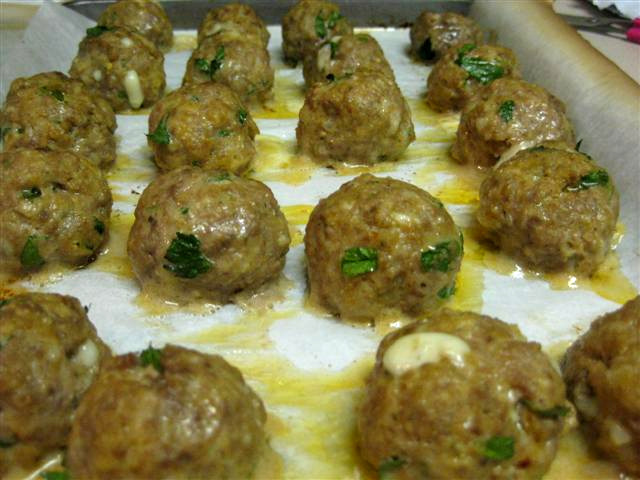 Simmering the Sauce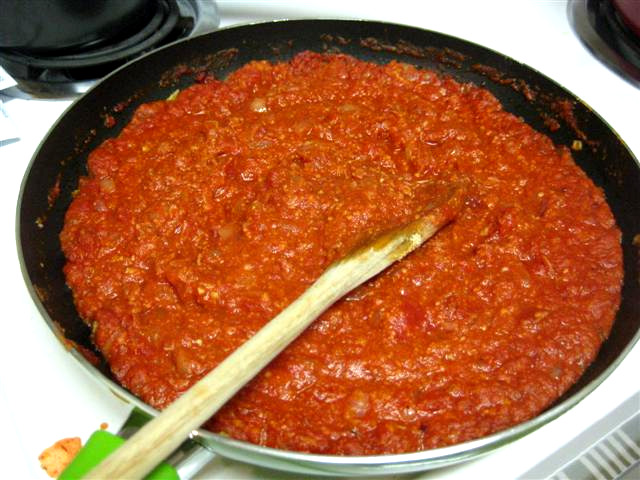 Packing Tupperwares!
Possibly Related Blog Posts (automatically generated)