10014 N Lamar Blvd
Austin, TX 78753
(512) 339-8434
Last Saturday, I spent the entire day with Kim (who visited from Houston!), Nino, Bing, Nisreen, Jesse, Katambra, Deesh, and Britney. We started the day off with dim sum (which then lead to pool time, watermelon time, Trudy's time, bowling time and then drinks and bar games at Sherlocks.) No wonder were were BEAT.
We usually go to T&S Seafood for dim sum unless we're trying a new place. No place has matched it since we've started to go to T&S. I always forget to snap pictures because I'm so busy scarfing down food like I haven't eaten in days. Truth be told, I don't remember a time we've gone when we weren't all ravenous. I like that I haven't been to this place without this crowd ever, so in my mind this is OUR place. It genuinely tastes the best and the staff actually has a lot of fun with each other which always affects the service favorably.
I managed to snap 2 photos last weekend of our food. People pictures were taken while we waited impatiently for the carts to go around. We were RAVENOUS. Big party takes a while to seat since this place is small and crowded.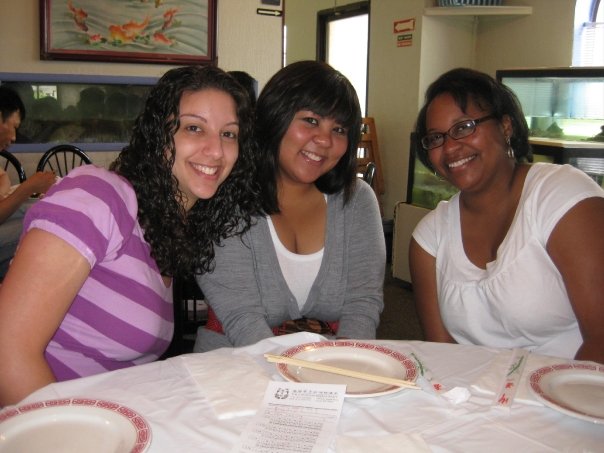 Lovely girlfriends.

Cranky due to hunger.

Above is a picture of our table at one point. Nino and I love the cheung fun which is the steamed rice noodles filled with your choice of meat (our choice is always shrimp.) We get 3 plates of this stuff. 1 for the table. 1 for Nino. 1 for me. Honestly, that's really how it works. Above, you can see 2 of the 3 plates we ordered of the cheung fun on the bottom and center. It's always doused in a sweeter soy sauce kind of sauce.

Another dish I never leave without getting is a dessert. Steamed buns filled with egg cream. I gobbled mine up too quickly to take a picture of the filling. Since there's all sorts of steamed buns, there's usually a kind of marking on top to identify which bun is which. The egg cream bun is usually marked by an orange color or yellow color. Katambra and I were the only ones who HAD to have these.
If I can remember to slow down at dim sum, next time I will take individual pictures of dishes that are must-orders.
Possibly Related Blog Posts (automatically generated)