409 W 2nd St
Austin, TX 78701
(512) 236-1657
www.teuscheraustin.com

Teuscher only has seating for 2. That's my umbrella on the floor.
Lily told me about this place ages ago but I had forgotten about it. Nisreen was having a rough day a week ago and I thought what better way to comfort a girl but have some chocolate? It was a rainy chilly day a week ago so I thought hot chocolate would be perfect. We had pho first for lunch at Pho Danh and then for dessert went downtown to try out Teuscher for some truffles and hot chocolate. Mmm.
Upon walking in the super super PINK store, we were greeted by the enthusiastic owner, Angus. He proudly informed us that every piece of chocolate he has was imported from Switzerland (as are all Teuscher chocolates). He was really disappointed to have this be our first trip and him being out of his most popular champagne truffles. Apparently the champagne truffle made Oprah's Favorite Things one year. Which means I definitely have to go back and try. We each ordered a cup of hot chocolate, hers with soy milk mine with skim. After perusing his chocolates, we both picked the dark chocolate truffle. The truffle was to die for.

Our hot chocolates. Perfect for a chilly rainy day.

That's Angus getting our truffles for us.
The hot chocolate was good and comforting but nothing has come remotely close to the hot chocolate at Chocolate Bar in Houston.
I urged Angus to try to make peanut butter hot chocolate. He pondered out loud over how for a few minutes. Let's see if he actually carries through. Either way I will be back to try his champagne truffle.
Also, there's Teuscher stores all over the US and world. Google and see if your city has one! Mary Ellen, there's one in Boston.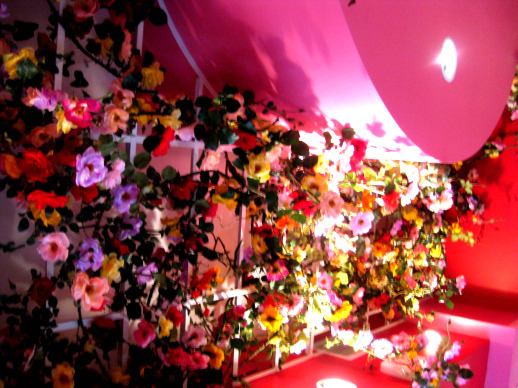 The ceiling. Very flowery and pink. It's like you step into a whole different world from downtown, Austin. I can't wait to visit again!
Other Hot Chocolate Mentions on my Blog:
– September 21, 2009 – La Burdick Chocolates (Boston, MA)
– August 28, 2009 – Quack's 43 Street Bakery (Austin, TX)
– July 13, 2009: Hugo's fantastic Mexican hot chocolate (Houston)
– April 10, 2008: Dylan's Candy Bar (NYC, NY)
– February 28, 2008: Clementine (Austin, TX)
– December 2, 2007: Hands down, the best hot chocolate of my life at Chocolate Bar (Houston, TX)
Possibly Related Blog Posts (automatically generated)