Update: El Arbol has long closed and is now Olive and June.

View from 3rd level
3411 Glenview
Austin, TX 78703
www.elarbolrestaurant.com
I got an email from Big Brothers, Big Sisters of America alerting me that all proceeds from brunch at El Arbol this past Saturday will go to BBBS. As a Big Sister and someone who loves finding excuses to eat out, I recruited a couple of girl friends to do good with me while we try out a new restaurant.
El Arbol ("The Tree"), an Argentinean restaurant that's been open a mere 2 months, is built around a colossal oak tree. The majority of the seating is outside and there are three levels of patio seating around the oak. As soon as we were walked outside and through the multi-level patios to reach the third level, I almost felt like I was in a different country. A Latin country! They did a very good job creating a miniature world fenced off from the rest of Austin, Texas. I told the Argentinean hostess this and she giggled and said she feels like she's back in Argentina when she's at work.
We requested the third level but I think we would have been a little warmer on the lower levels. I didn't anticipate the weather being a little breezy that morning. No matter, we effectively warmed ourselves with some alcoholic beverages (refreshing Mimosas and Bellinis). The brunch menu is actually a tad more expansive than the online brunch menu. Our lovely hostess suggested the empanada, pasacualina (pascualina is a traditional Uruguayan and Argentinean pie filled with chard (sometimes chard and spinach) and eggs), and also the lomo (pork tenderloin) sandwich (I forgot what they officially named this sandwich and sadly it is not on the online menu). Naturally, we ordered everything she recommended.
The food was delicioso! The spinach in the pascualina was fresh and gave us our healthy dose of iron. I know the crust isn't healthy but being someone who is not typically a healthy eater, I'd order this if I was feeling "good." The sirloin, potato, onion empanada was perfect with a brown sauce filling. I couldn't tell if I liked this the best or the pork tenderloin sandwich with the seasoned fries. The pork was cooked medium rare and was juicy and I love the fried egg and greens.
I present the pictures. I apologize that I was so taken by the taste of the food that I forgot to photograph the cross sections of the pascualina and empanada. I'm afraid you'd just have to take my word that they are completely visually appetizing.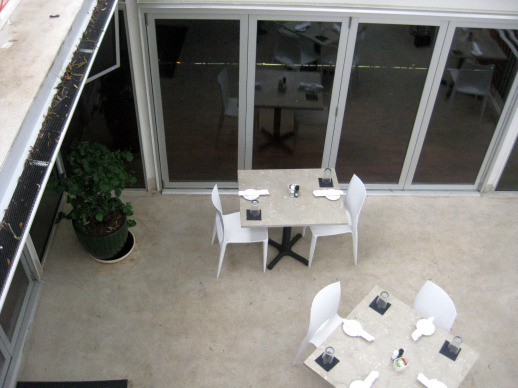 Pascualina
Baked spinach and onion pie with Parmesan cheese and egg

Carne Suave Empanada: sirloin, potato, onion

Lomo Sandwich with Fried Egg and Seasoned Fries

The gorgeous cross section

What is brunch without some fruity cocktails? In this case a Bellini and a Mimosa.
Ah. El Arbol, mi nuevo amor.
Possibly Related Blog Posts (automatically generated)