The good thing about just coming back from a packed weekend is that I have photos to blog without really haven't to use my spent brain.
Today, I bring you photos from a high school reunion I had last weekend in Houston. I saw Hillary and Alex for the first time in a while. We're lucky to see each other on holidays. I found some pictures of us that are duplicates of us from high school so I gifted them to the girls over Chocolate Bar's hot chocolate. The BEST chocolate of my life STILL. I love that Chocolate Bar is purply. When I went over to pick up Hillary, she was wearing a purple shirt as well and her two sisters were in purple! Amused, her dad took a picture of us, all graduates of the same Catholic high school.

We forgot to take a picture of our hot chocolate before it turned ugly.

We asked a stranger to take a photo of us. It was kind of awkward. Note the folded hands and the nervous smiles.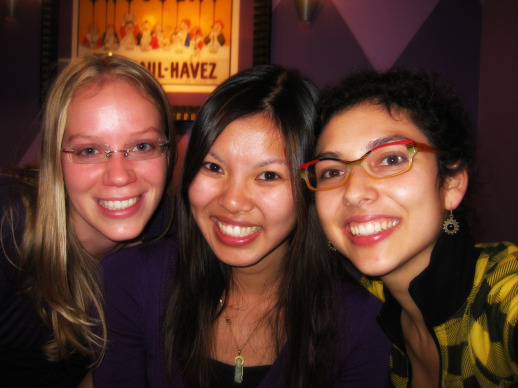 So we took a self portrait. I wonder if that offended our photographer stranger.
Interestingly enough, December 2, 2007, exactly TWO years ago I blogged about my first time at Chocolate Bar.
Possibly Related Blog Posts (automatically generated)