The Austin Food Bloggers Alliance is hosting their annual food guide to Austin, Texas and just in time for South by Southwest. My first city guide contribution is covering the Thai food in Austin. To check out the other city guides from members of AFBA, please click on the pretty logo.
Titaya's Thai Cuisine

Gang Dang (Red Curry)

Titaya's Thai Cuisine is one of the most popular places in Austin for Thai food and number one choice in a recent survey of Austin Food Blogger Alliance members. There's usually a little bit of a wait and their waiting area is a little cramped, but their food makes the discomfort worth it. Once seated, the service is very efficient. The curries are flavorful and not watery. My boyfriend recently ordered the Gang Dang and I found myself stealing spoonfuls from him throughout the meal. The Pad Kee Mao was above average in comparison to the many orders of Pad Kee Mao I've ordered in my life time. Tom Yum was tangy and spicy and I could slurp on it for hours. Mangoes are out of season right now but the custard sticky rice dessert was a delightful substitute for dessert.
Madam Mam's
2514 Guadalupe St.
Austin, TX 78705
(512) 472-8306
4514 Westgate Blvd.
Austin, TX 78745
(512) 899-8525
2700 Anderson Lane, Ste 419
Austin, TX 78752
(512) 371-9930
Madam Mam's secured the second top pick in the Austin Food Bloggers Alliance survey but it has been my favorite Thai place in Austin for over 10 years now. I started patronizing this establishment since its opening on campus and could not remember one time where the food disappointed me. Spaghetti Kee Mao with flat noodles instead of the spaghetti is addictive and my go to dish. I recommend it if you love spicy food, basil, and mushrooms. The eggy and sweet hinted Pad See Ew and Pad Thai are dishes I'd order more often if I could somehow grow another stomach. Basically, everything I've tasted at Madam Mam's is excellent: the stir fried noodles, the salads, the fish, the curries. Madam Mam's is my personal number one pick.
Thai Fresh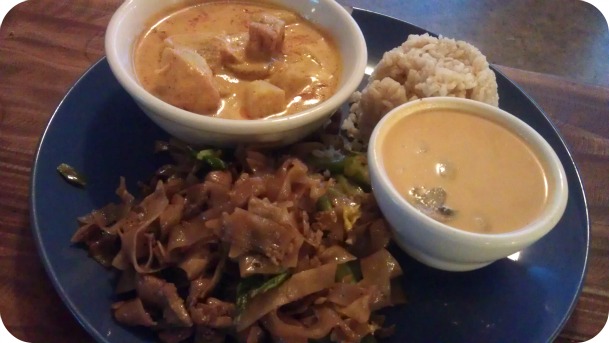 Red Curry, Pad See Ew, Yellow Curry
Thai Fresh, the third top pick from the survey, offers meals deli style except for Sunday when they are cook to order. I really enjoyed their Spicy Glass Noodle Salad and their curries (especially the Red Curry) are really good. I recently tried the Pad See Ew and the Drunken Noodles deli style. I would recommend ordering rice noodle entrees on Sunday, when they are cook to order since rice noodles do not heat up as nicely as their curries do. Their storefront is also attached to Thrice, a darling coffee shop serving the usual coffee shop fare and often hosting live music. Together, they provide a quaint place to lounge and get your coffee and Thai food fix.
Pad Thai
3208 Guadalupe St, Ste A
Austin, TX 78705
(512) 371-8777
1201 Barbara Jordan Blvd
Austin, TX 78723
(512) 469-1778
The Guadalupe location is on my way home from work. Truthfully, I've dismissed this restaurant since it was so close to Madam Mam's, but when I saw that it was mentioned as someone's favorite in the AFBA survey, I stopped by one day. I was very pleased with my experience. Pad Thai had friendly service, really awesome fried rice balls that remind me of risotto balls and their Pad Kee Mao was delicious. The level of spice here was a little higher than other places in town so I recommend lowering your usual level of spice by one. I've also heard they have inexpensive lunch specials at Pad Thai. This is good place for Thai near the campus area if you are not in the mood to deal with Madam Mam's lines during peak hours and the limited parking.
Mai Thai

Pad Ka Prao at Mai Thai
Mai Thai, located downtown, has really stellar lunch specials that are available all week including weekends. For eight dollars you can have your choice of traditional dishes such as Pad Thai, Pad Kee Mao, various curries, and Basil Fried Rice. Lunch orders come with a Tom Kha or a salad. I went here for the first time last week and the Tom Kha was luscious and Pad Kee Mao (my favorite Thai dish) had a pleasurable amount of basil and garlic. The Pad Ka Prao was also palatable, the meat tender and flavorful. Efficient service, awesome lunch deals, and downtown location!
Thai Kitchen
I asked my friend Michelle Cheng of Foodie is the New Forty what her favorite digs were when it came to Thai food. One of her dishes mentioned was Thai Kitchen's Gatee Tom Yum Gai. It's been quite some time since I've eaten here but I do remember their Thai fried rice was my favorite dish. Located near campus, one of their selling points is that they are opened to midnight on weeknights and 1 am on the weekends so they accommodate your late night hankerings for Thai food.
Thai Passion
620 Congress Ave
Ste 105
Austin, TX 78701
(512) 472-1244
www.thaipassion.com
9300 South IH-35, Ste. A-400
Austin, TX 78748
(512) 382-0057
The location on Congress is in the heart of downtown and open til 3 am everyday, making Thai Passion a great place to indulge after the bars close down at 2 and you're not ready to end the night. I've only been to the downtown location and usually after a night out. The service is always prompt and kind. Through the years I've witnessed many unruly patrons, something that's bound to happen when you're open this late so close to the bars, but the service staff at Thai Passion always handles their patrons with grace. Pad Thai is decent and the Tom Yum is delicious.
Peached Tortillas
http://thepeachedtortilla.com/


Banh Mi Slider and Pad Thai Taco
Peached Tortillas, a popular food trailer in Austin, isn't exactly a Thai restaurant but there is a couple Thai inspired Asian fusion items, namely the Pad Thai Burritos and Pad Thai Tacos. They also have other Asian fusion eats (the Banh Mi Sliders are a popular item). The trailer moves about Austin (schedule is found on their website) but during the weekend nights, they can usually be found next to Star Bar downtown. Peached Tortillas is definitely an Austin gem!
Other votes from the Austin Food Bloggers Alliance survey were Muang Thai, Sap's, IM Thai, and CK Thai.
Question: What are your favorite places for Thai food?
Possibly Related Blog Posts (automatically generated)